Just got the rear calipers swapped over from 1GA to 1GB. Easy as pie.
Besides needing the calipers (Part Number 19-1508 and 19-1509 A1 Cardone), I also picked up a quart of brake fluid to bleed the entire system, along with some screw on plugs for the rear brake hoses to stop a little more air getting into the system, which...kind of worked. In any case, if a person's willing, get some new brake bleeder screws for the front and nab up a packet or a bottle of anti-seize to put a dab on the bleeder screws as well.
First thing I did before installation was compare the two, of course.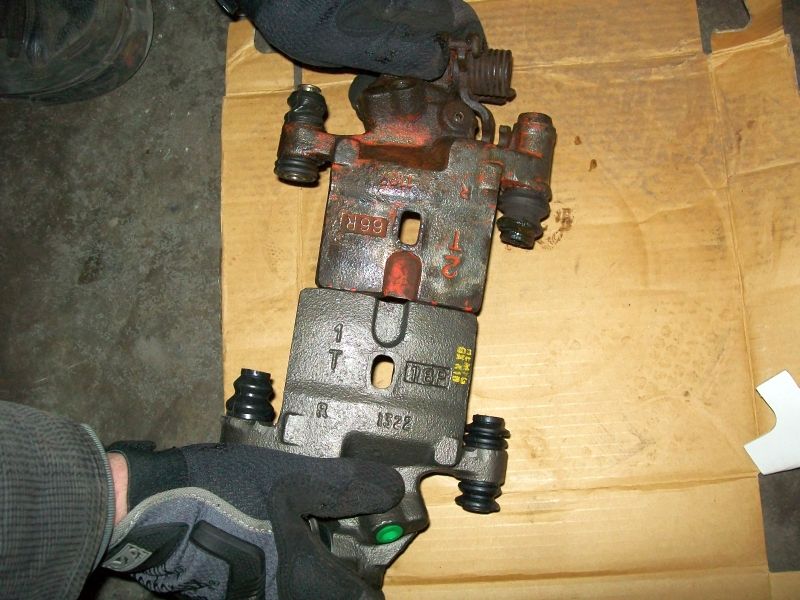 As you can see in this picture the top of the 1GB caliper is considerably larger than the 1GA caliper along with having different casting stamps on the top. I noticed that when flipping them over...
The piston itself sticks out a little more than the 1GA's even though it is fully compressed.
In any case, here is the result of finding this information out.
Just as a side note, the pads from the 1990-1994 rear AWD are interchangeable, whether the part numbers are or not.
When I was checking this, the part numbers for the near best pads on hand were MKD533 (for the 1GB pads), the part number for the 1GA is C329 (I believe it's that one). The only difference between the two is the compound itself. Everything on the rear interchanges.
I have not yet checked to see if the parking brake cables will work or not since one side has snapped and the other is not doing so hot either. I'll be finding out when I pick up a set online.