Discussion Starter
•
#1
•
With oiling being critical on any engine, any improvement in the factory oiling system will be helpful.
I feel this should be done on any rebuild including the most stock rebuild.
On the front of the 4g63 engine there is 2 oil transfer galleys that work with the oil pump/front case. These exposed oil galleys are exposed and easy to get to.
I have noticed casting build up in some blocks that can hinder oil flow to the main oil galley.
This is easy to fix and not hard to do.
Tools needed
Die grinder (a drill should work in a pinch)
Carbide bur or small grinding stone or a handful of head porting rolls
I do this when the block is first apart, before it is even cleaned.
The oild front case is left in place, the gasket covers some of the oil galleys.
Take a knife or razor blade and cut the covering gasket away.
Notice the rough cast finish of the galleys.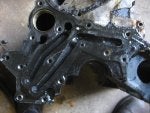 Also notice the sharp turn the oil has to make in to the main oil galley, along with a hump in the lower galley.
I chose to use a small carbide bur.
The point of this mod is to smooth the oil galley of casting flash and roughness, along with bevling the transfer of oil into the main oil galley, along with making the hump more into a ramp, be careful on the hump, do not grind too much on it,the oil galley from the main galley to the #1 crank main bore passes through it. Hit that passage and the block will be junk.
After I was done with the bur, I went to a sandpaper roll just to smooth it some more.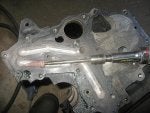 When you are done, it should look about like this.
This is done on all the blocks I machine, From what I have seen the 6 bolt blocks are worse than the 7 bolt blocks.
The idea for this how it came from DSMGraveyard website. Where I found this mod being done.