Discussion Starter
•
#1
•
The story
So I'm building a 93 Talon AWD for my dad. My brother gave him a 91 GSX a few years back to drive in winter and I ended up taking it for 1 winter and then selling it after stumbling upon a Black 93. This car sat for around 3 years. A friend of my brothers was going to buy it and got it to his house. I drove past this thing every day. The kid came to see me and told me, "
the transmission seperates from the block. I can tighten the bolts but it comes loose after a week
"
So one day I went to look at it. It was a black 93 with charcoal leather interior, 4bolt with lsd, charcoal wheels, 2 piston calipers and found it had a 6 bolt put in by the previous owner, sun roof. The kid said he needed $1500 and that the owner still had the title. That was a bit steep for me so he gave me the number to the owner. We chatted for a bit and I offered $500. He said no way and I told him what the car needed. After a lot more talking we agreed on $800 and I bombed the car home a mile and a half where it sat till now.
The List
1993 Eagle Talon TSi AWD
Engine:
2g pistons bored .040 over.
1g shot peened rods
New Mitsu pump and rear main seal
ARP Headstuds
Mitsu metal headgasket
SI stainless valves
SI bronze guides
Crower springs
Stock cams
New Mitsu Timing kit
No balance shafts
All new stock rubber engine mounts
Mishimoto Aluminum Radiator
Intake/Turbo/Exhaust:
Dejon intake for a 2g mass
2g Mass with filter
Old ass budget FMIC from DSMotorsport
Custom piping with 1g bov.
Hallman boost controller
16g turbo
2g mani/ported o2 housing
Buschur 2.5" stainless downpipe
Custom 2.5" cat (stainless)
Buschur 2.5" stainless catback
Fuel & Management
550 or 650 injectors (thinking I'll only need 550's but have spare 650's)
Eprom ECU (waiting to order chip)
Aeromotive AFPR
Walbro 255 pump with rewire.
AFC2
AEM Wideband
Auto Meter boost gauge
Transmission/Drivetrain/Brakes
Shep rebuilt transmission (stock build)
Stock flywheel
ACT 2100 clutch with street disc
Braided 2g clutch line
New Clutch pedal assembly
New Clutch master and slave
Aluminum shifter base and cable bushings
Aluminum shifter cable to tranny mount
Aluminum carrier bearing bushings
Rebuilt driveshaft w/ new carrier bearings, spiders, yolk
ABS eliminated
Goodridge brake lines
Power slot front and rear rotors
EBC green stuff front pads
Rebuilt front calipers, New rear calipers
New parking brake lines
New dust shields
All new Mitsu wheel bearings all around
Suspension/Wheels
Eibach pro kit
GR2 struts
Energy suspension front and rear bushings
Rear poly subframe bushings
Poly sway bar bushings with new endlinks
Repainted 1ga rims with Dunlop Winter Sport tires
Stock wheels to be powdercoated for summer tires
Interior/Exterior
Charcoal leather
Cleaned interior all stock
Stock exterior
Stock sunroof
Ebay headlights
New used mirrors
New used left tail light
Extra's
New AC condensor and dryer (yes will have a/c)
Cruise control maintained
Subframes painted with truck bedliner paint
Engine/tranmission painted
Minor wiring tuck
New Windshield
Hood/roof/hatch repaint
Lots of work to do. Now on with the pics!!
The car sitting at home
Had to throw the spare on since the tire was beyond flat lol
Interior (was filthy, can't tell in this pic)
So the car sat for a while as I built my white 90 back up. I got bored one day and yanked the transmission. I knew either the original owner did not have the small 12mm head bolt in the rear or for got the dowl pins. Sure enough they broke the 12mm head bolt off in the back and left it out. The bell housing was ruined along with the starter and the clutch ended up being broken as was the starter plate. I also came to find there was a 16g in the car. The owner said they changed the turbo but I didn't believe them. This thing is mint too, clean, no shaft play.
Recently I pushed the car out on the winter wheels I cleaned up.
I then got the engine ready to come out
So I started yanking out some parts that would never go back in which lead me to this point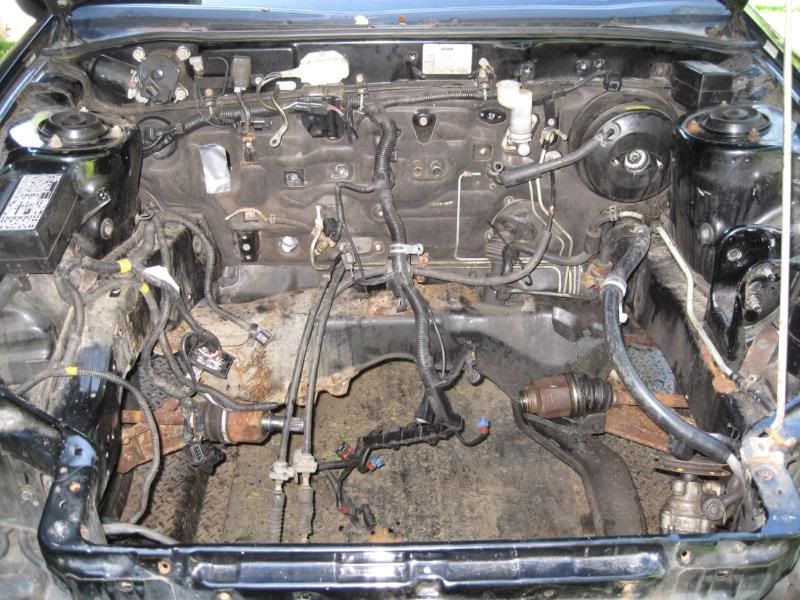 So that point was this morning and I decided to clean the engine bay up in between naps. Yes, its Sunday, I like to be lazy. This only took me a couple hours to strip the car and power wash it with some simple green. I'll actually hand wash it and take care of a little bit of rust near the p.s. resivour and maybe shave the holes in the cowl area;
I'll be updating this build as the days go on. I have a big order from JNZ coming in thanks to Erik. That poor guy spends so much time on the phone getting me the wierdest mitsu crap. Some day I need to drive out there and shake his hand. I also ordered a bunch of parts from Rock Auto as well as stainless hardware and an assortment of new fasteners from other places.
This car was hacked under the hood. Lots of broke parts, bolts, seals. Way too many missing items. Axle boots ripped, clutch master and slave leaking. Stay tuned for a rather stock build up for my dad. (And if you're wondering who's paying for all of this, I've paid for most and had most of these parts laying around. He's given me some cash but this is kind of a, thanks for all you've done for me gift.)
Stay tuned. Hope you enjoy