Our local track in Kansas City had their last "run what ya brung" race night tonight. Supposedly, it is shutting down and being made into a park. I haven't read on it (Swade will know more), but I hear there's a big protest and what not going on tomorrow in downtown KC.
This is my car not fully tuned on ECMlink V3 full on SD @ 25psi.
Here are my two videos:
1st video - 12.281 @ 115.85 MPH
Spun in 1st.
Breakdown of pass:
R/T: .706
60': 1.919
300': 5.277
1/8: 8.003
1/8 MPH: 92.08
1000': 10.316
1/4: 12.281
1/4 MPH: 115.85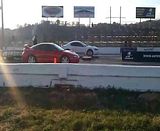 2nd video - 13.100 @ 111.52
I added a degree of timing and wound up a few MPH less. I spun like a bitch.
Breakdown of pass:
R/T: .521
60': 1.989
300': 5.743
1/8: 8.675
1/8 MPH: 87.71
1000': 11.043
1/4: 13.100
1/4 MPH: 111.52
Spun like crazy in 1st and dumped the clutch harder: