Discussion Starter
•
#1
•
I was looking to upgrade to a full Garret GT35R Turbo so was shopping for a reliable cast manifold that would accomodate a GT Turbine housing with TO4S-sized compressor without hitting the block, not needing spacers, require water pipe denting or other "mods" to fit.
Note I did look into the venerable Turbonetics T3, though from my reasearch have found it to be poorly designed w.r.t. port inlet/outlet requiring significant porting to match the stock gaskets, spacers for non-5bolt housings to clear the block, the wastegate mount position only pulls from one runner and more times than not will hit the hood. No thanks
I then saw mention on another forum of the ERL Manifold which is Cast Stainless Steel with a centralized wastegate port and, after finding another DSMer having had great sucess with it, decided to give it a try
Note that the 4G63 ERL Manifold can be ordered flanged for any of the following: Misibishi, T3 or T4. I'm only reviewing the T3 version which is what I have.
On to my review.
The manifold came well packaged and looked as nice as it did in the pictures. Surface has a satin finish with no noticable casting flash on any of the surfaces (inside/out). Both the inlet and collector surfaces were machined perfectly flat and the ports matched up perfectly with my new T3 Outlet and Mitsu Exhaust gaskets. The only "fabrication" I had to do is cut the wastegate tube to size and weld on the flange of choice. I used a Tial44 and had to cut the tube down pretty close to the support and even then had to trim ~1/8" off the top engine mount/lift bracket (took 20secs with a dremmel and a sanding roll).
With it mounted on the car I noticed that the runners are purposefully longer than the Misubishi Manifold with the outlet angled slightly which gave me a ton of clearance btw my GT3582R and the waterpipe/block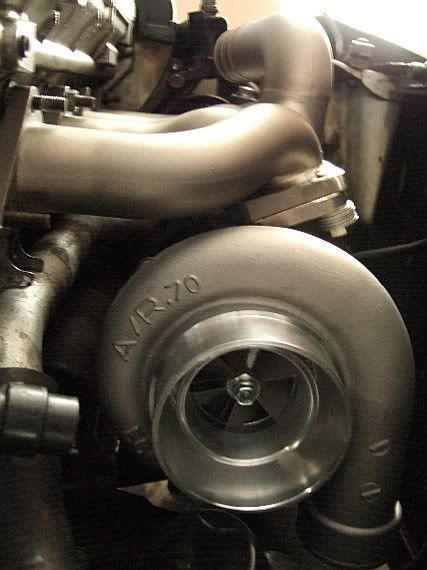 The following pics show other clearances:
Front
- Plenty of room for a slim fan
Top
- Plenty of clearance for the wastegate
Outlet
- Look at all the daylight
Enough room for a real 3" downpipe!!!
DONE!!!
My overall impressions of the ERL T3 Manifold for the 4G63:
Quality: Excellent
- ports/bolt holes matched the gasket with none of the BS porting most other cast manifolds (Turbonetics, SBR..etc) require.
- no noticable casting flash inside the runners, collector or WG tube
- both flanges were 100% flat and stud threads properly chased
- finish did not discolor after repeated cycling
Design: Excellent
- one-piece cast stainless design which (unlike cast iron/tubulars) should last a lifetime without cracking (ERL tests them by heating to 1800F and dropping into cold water
). ERL does give a 5+ year warranty and is a large established company that should be around to honor it if needed
- Stainless absorbs less heat than cast so stays cooler
- compact purposeful design that pushes/angles the turbo away from the block allowing for a large compressor cover (I have the Garrett SP) and a GT turbine housing without spacers or "denting" of water pipes.
- lightweight design:
10lbs
vs 17lbs for OEM Cast Manifold
- wastegate port centralized (e.g. pulls from all 4 runners) to keep backpressure equal accross all runners (better performance) and to ensure that maximum boost control is achieved. I ran as low as 15psi on my GT35R with ZERO boost creep.
- wastegate port positioning allowed much simpler routing of dump tubo, O2 housing and did not interfear with PS pump / alternator (although I relocated mine as wanted to clean up the area, I could have retained it easily).
- wastegate to hood clearance is good so no hacking of hood required with even a Tial44 (unlike Turbonetics).
Performance: TBA
I've yet to get this new setup fully dialed in or hit the track/dyno but my preliminary appraisal is that boost control at 15, 17 and 19psi was excellent and although many other factors are invloved, spoolup was right where I expected it (20psi by 4700 in 3rd) and no boost creep even down to 15psi.
Value: Excellent
This piece retails for $549 and can be had for a $499 (ask me nice and I may tell
) which is IMO a pretty good deal for a piece that fits, well-engineered, will last nad has a decent warranty. Any oh yea, it looks friggen cool