Paul Portuese
Paypal:
[email protected]
(i use my gf's and no i'm not a girl
)
Description:
I can make catch cans, coolant overflow tanks or any assorment of your basic needs. I do this in my spare time for fun and for a very minimal profit. Some of these I sell at a loss. Simply because I need practice and you need cheap parts and they don't need to be taking up room on my shelf. I can do any simple/basic thing you need. Keep in mind I sold my 2g and do not have access to another one to mock up any parts. Also I will NOT make a fuel cell and will not weld an elbow on a turbo outlet. I will also not weld anything onto a stock manifold that is cast or repair cracks in a cast manifold. These require nickle rod which is NOT cheap and I don't have a oxy/fuel torch to properly heat the part.
If you need anything else welded, please contact me and I will see what I can. If it's something beyond my skill level I will refer you to someone that used to do all my welding for me and he is fantastic.
Warranty: I offer a 30 warranty on my parts if any of the welds break. Simply send the part back
and pay for shipping.
Typical Turnaround time: Expect a few days to a week at most. I do this in my spare time and also have a full time job and a baby that takes priority. I will not do any welding at all when my daughter is with me on my weekends. I am also on call for work every other week so my schedule is kind of crazy.
Prices: Prices vary depending on the product, amount of time invovled and parts. I offer sandblasting of the part I sell for an additional $5-$10 each part. Sorry I do not do powder coating.
Thanks, let me know if I missed anything.
3.75" x 3.5" x 3.75" aluminum catch can. Made from .063 6061 aluminum
2 ports, and a drain. Standard 1/4 NPT fittings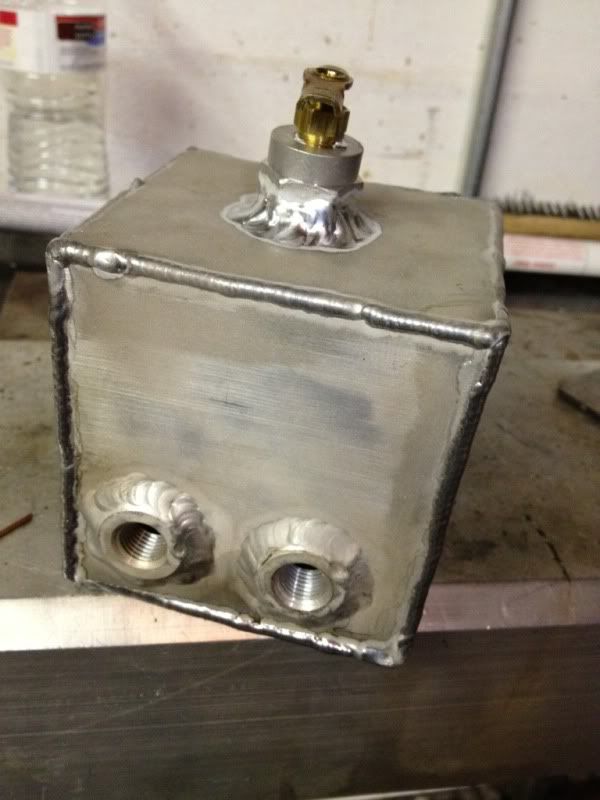 The entire thing except the top is sandblasted, but it will be before it ships. It's then ready to be wiped down, and powdercoated or polished. It's up to you. I sanded down all the welds as can be seen in the first two pics but didn't like it, so I rewelded the entire thing.
It is NOT empty inside. I did make 2 baffle plates with steel wool in between. So it will pull the oil from the vapor and prevent it from being sucked back up.
Warranty: As long as I have a tig welder, if it cracks, send it back and I'll fix it free. Simple as that.
Why did I make it: Because I have nothing better to do and I need little projects to keep fine tuning my skills. I hope that the buyer would run this for a while and let me know what you think, and how much oil it catches over time.
Bolting on: If you want a bracket welded on, take some measurements or give me an idea of how you want a bracket welded on. Price = free.
$50 shipped to the lower 48.
Keep in mind I have probably $30 in materials into this and cut everything out by hand. Fitment, welding, drilling holes, and sandblasting, I have literally about 4-5 hours into this.