Heya everyone! So since I got alot of pics uploaded from my build I decide to finally start this so I can show off the Laser. First I want to apologize for poor pic quality from Photobucket..... I uploaded great pics however, when I look at them off Photobucket they become like checker board. If they look bad my apologies. I have been looking through fellow members builds and no one is building a4G37 car. However I think it's different and hope you all enjoy my project. It's been a long year and def a love and hate relationship.
I picked up Tricksy the 1994 Plymouth Laser in June of 2009. I actually saved it from going to the salvage yard along with a 93 Eclipse GS 1.8. I scored them both from A tow company for $600 for both, once I had them I sold the Eclipse to my then roomie for $300. These two pics were at the tow yard when negotiating the cost.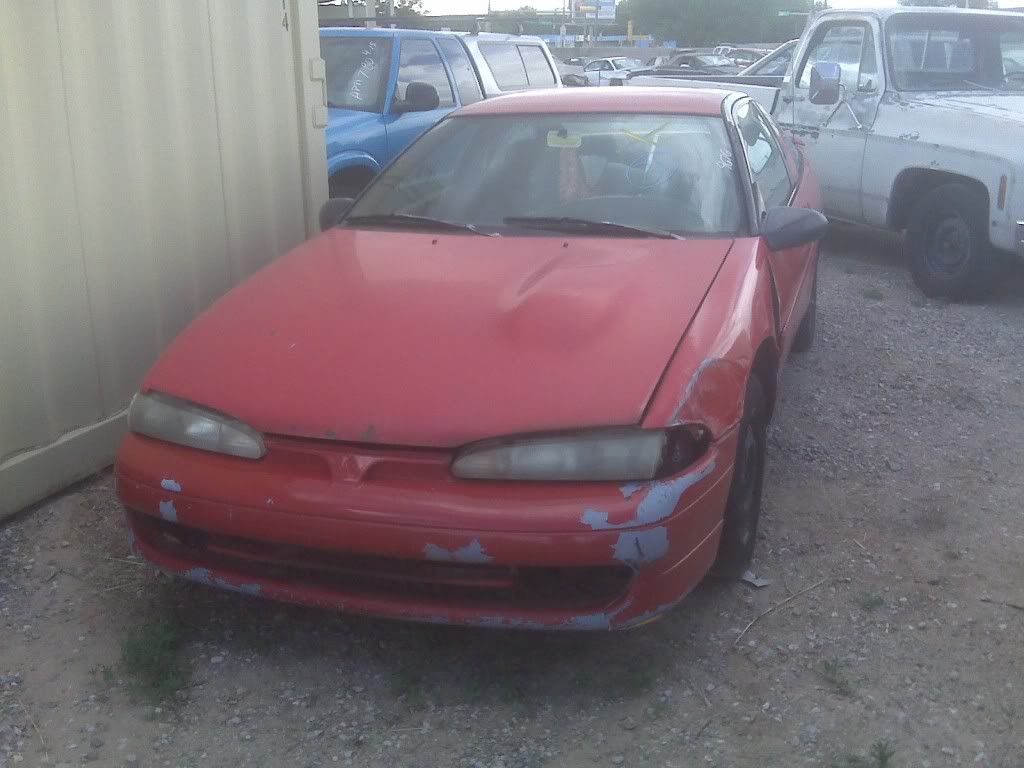 As first you can tell, a upside down exhaust pipe, wrecked LH fender and marker lamp, and a Eclipse front bumper. While googling what a 94 Laser should look like I found my avatar pic.
First mods were done withing the first month included
Laser reconditioned front bumper
Salvaged LH Fender
LH marker lamp
HID head light conversion
Front and Rear Upper Strut braces
Ebay polished hard pipe intake
18" MSR Flat Black Red Line 20 spk rims
Potenza run flat tires
Magnaflow Catback exhaust
I then decided to go ahead and give it a paint job. I was tempted to go with a AM bodykit, but didn't wanna be flamed on. Soooooo I decided to go with the 1gb Talon body cladding. This is the car with the rocker sections and new wheels. Excuse my thumb in the 1st pic, my bads.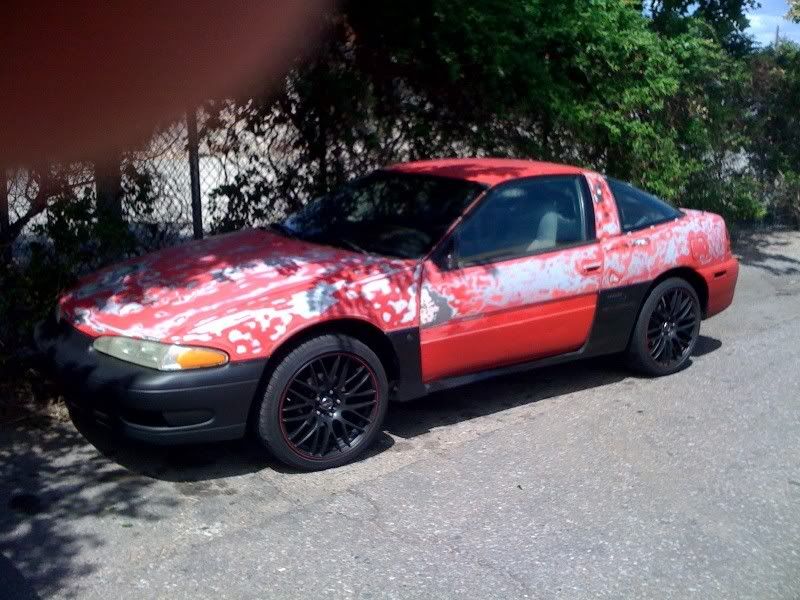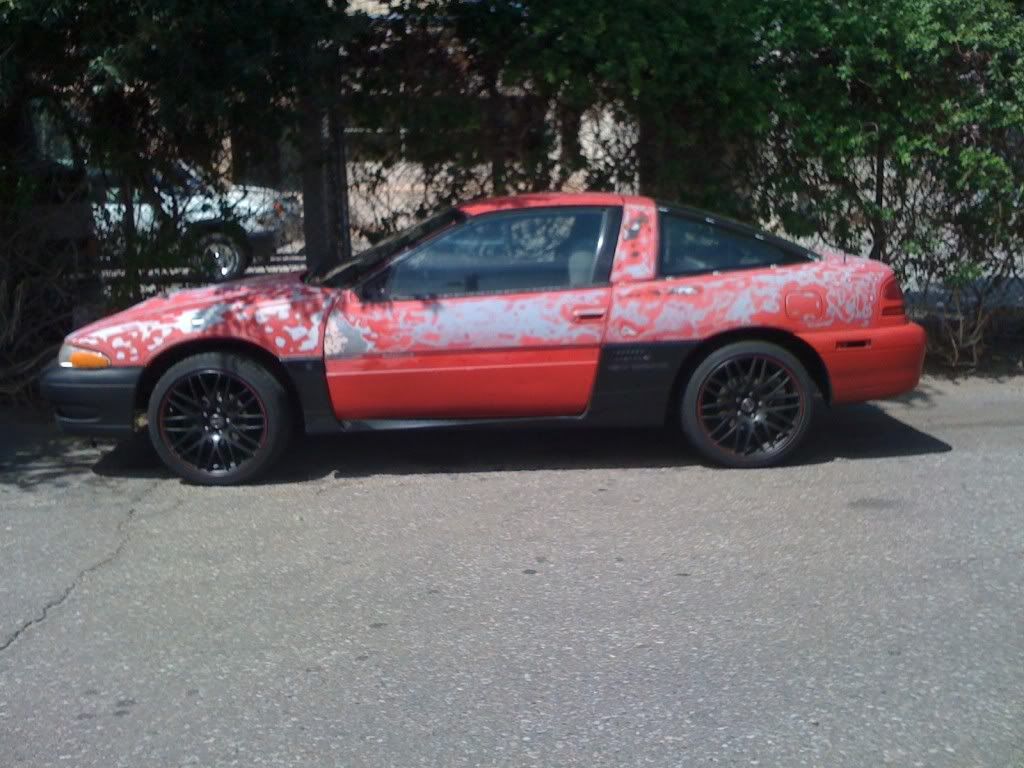 The car was starting to come together and the DSM god did not approve of something and caused the rear main seal to blow out and oil everywhere!
So I decided to goahead and start removing the transmission to replace the seal. I decided to go ahead and do the clutch as I was in there. Now I can't remember the brand I went with but it was a eBay stage 2, I can find the invoice. Well, I literally had just the motor sitting in the engine bay, by this time it was early November. I decided to hold out untill February to get my tax return and just have the wholemotor rebuilt. I bought a new one from eBay for $900 with JIS Engines. Since the DSM is the Plymouth namesake I decided to paint the engine Hemi Orang (Stuff cost about $25 a can!).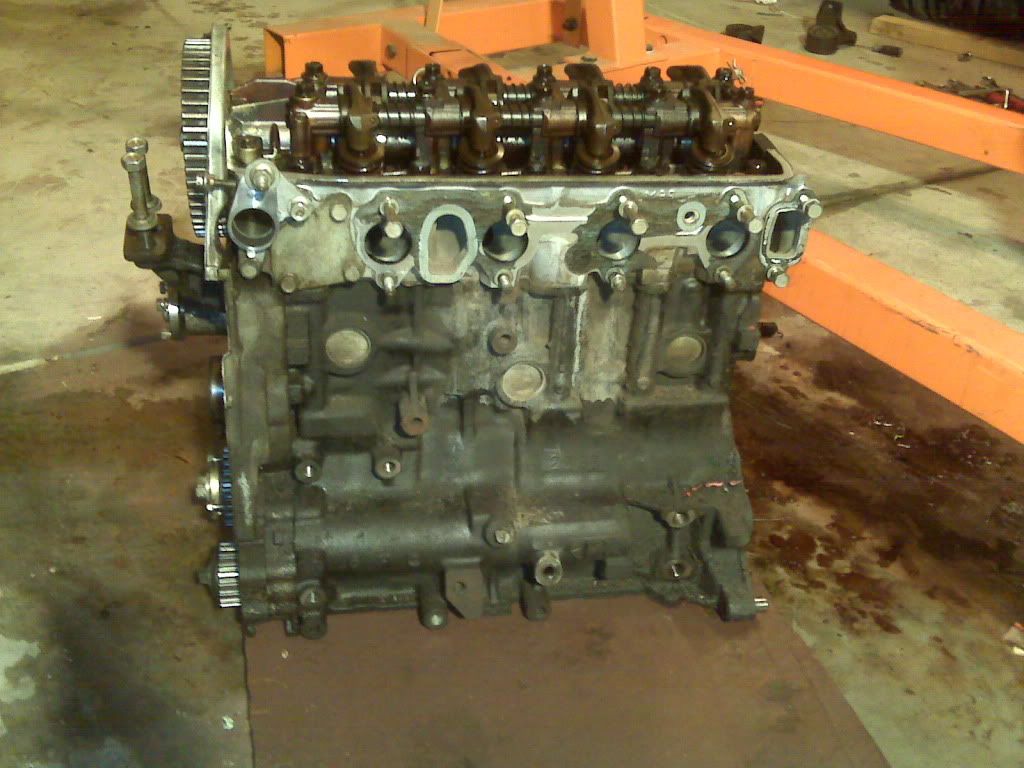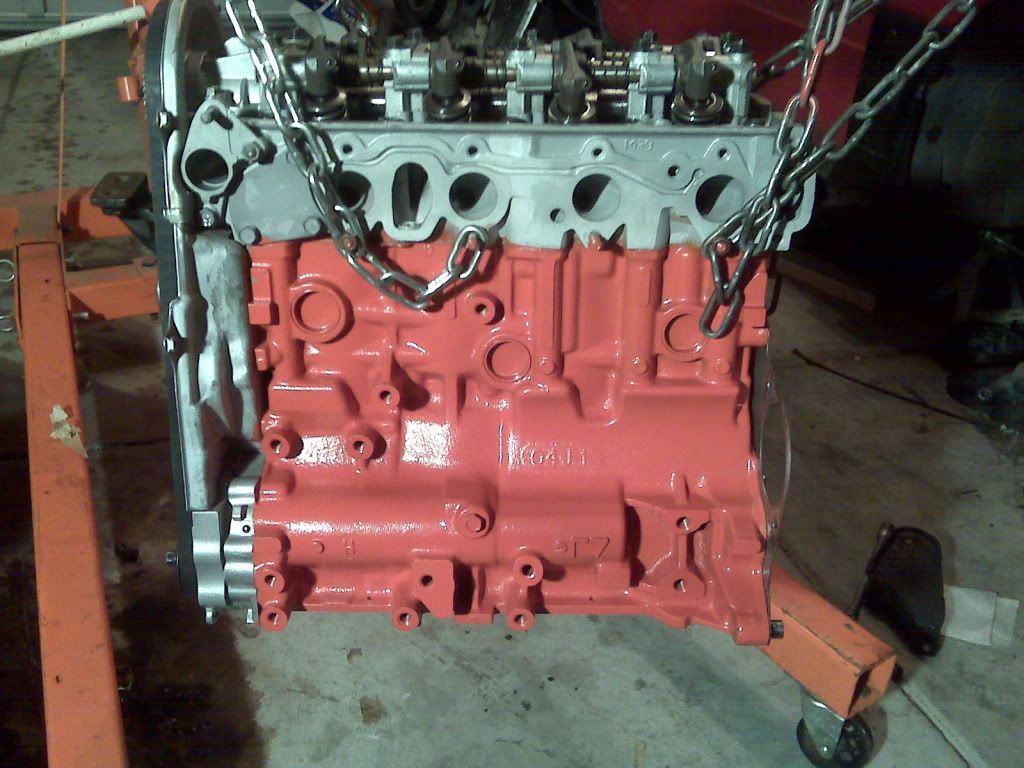 By now it's early April and I start it up for the first time. While installing the motor I did a few more upgrades with my tax return.
Carbon Fiber hood
Cardon Fiber short throw shifter
I drove the car around for a few days to make sure no problems or leaks. On a Friday afternoon I got the car insured and temp tagged. Oh, it was a glorious day in the DSM world. Angels rejoiced and sang Allelujia from the heavens. I took it out on a cruise and filled up the tank (which would be the curse). 3 days later after getting it temp tagged, my new roomie's neighbor decides to hit the passenger side with her Xterra. She blindly floored it out of her driveway just as I was passing by. The next pics so the damage done when I got home.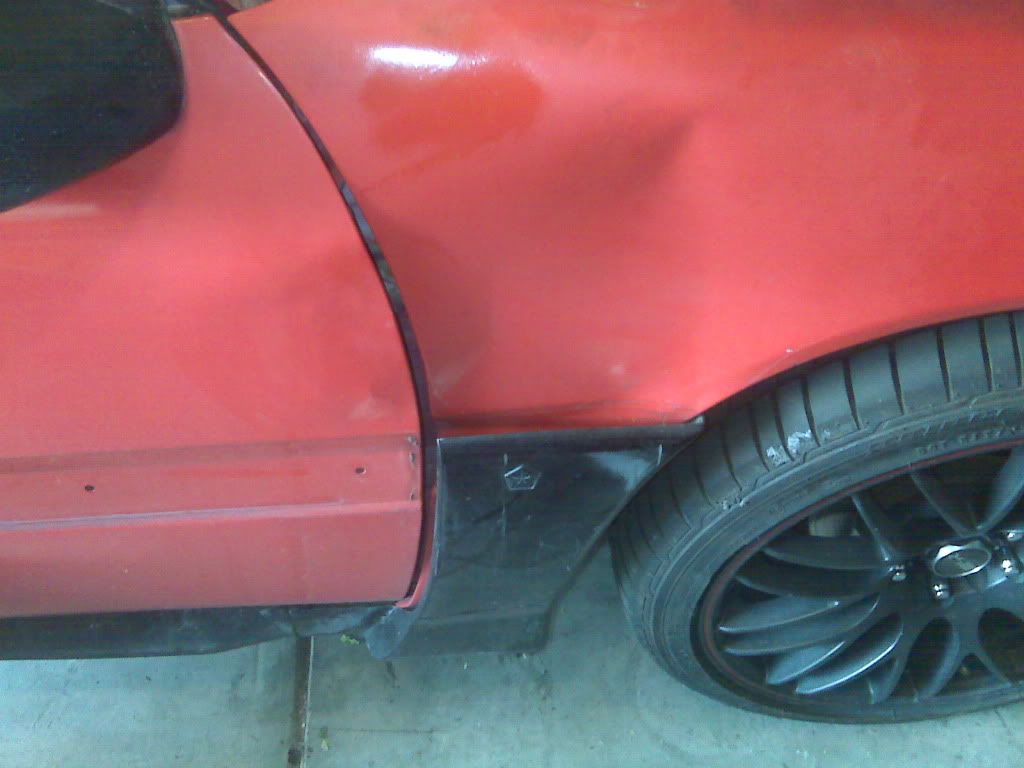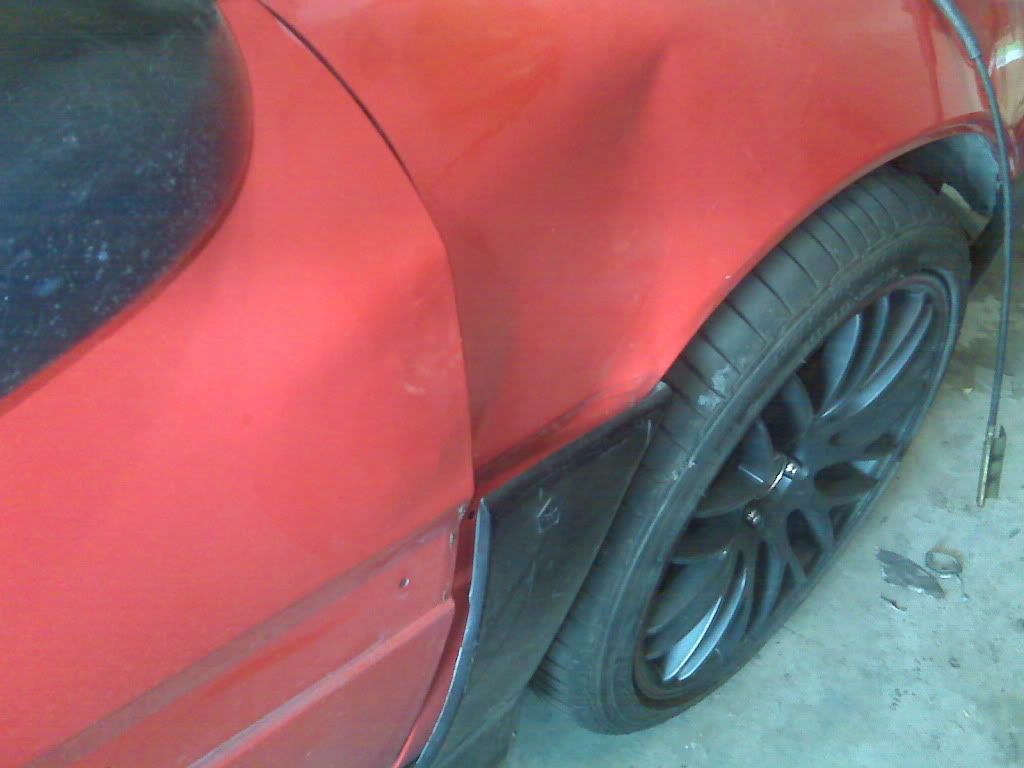 Well in the lounge I posted how the insurance wanted to declare a total loss because of this damage. After heated discussion and help of this board they decided to increase the cars value from $1093 to $1925 and have it repaired. Now to jump back a few weeks while it was wrecked it was still driveable, I put 500 miles on the new motor and filled up again to be heading to a local casino and the head gasket gave out (and yes I filled up the tank). After that it sat untill the end of May and I decided to fix the head gasket and find a new fender (this was prior to the insurance deciding to have it repaired). I took a trip to the salvage yard to find the RH fender and came across great black front seats and a matching black vinyl rear seat. As well as the Cyclone head (Which if it was 2 weeks earlier would of been installed then, pics to come soon). When I removed the damaged fender there was no frame damage. The day after I fixed it myself the Insurance let me know they wanted to fix it
great, if only 1 day earlier.
I decided to finish my quest in paint the poor car as it's been sanded for a year now. The following pics show the Carbo Hood, the body work, sanding and Priming process.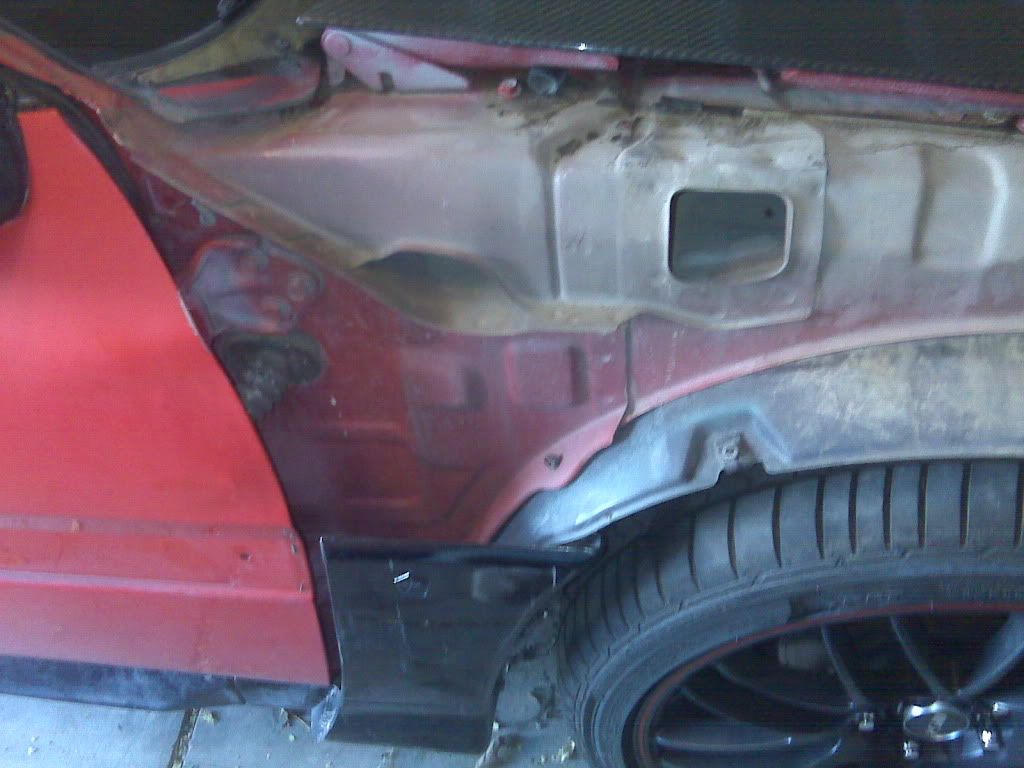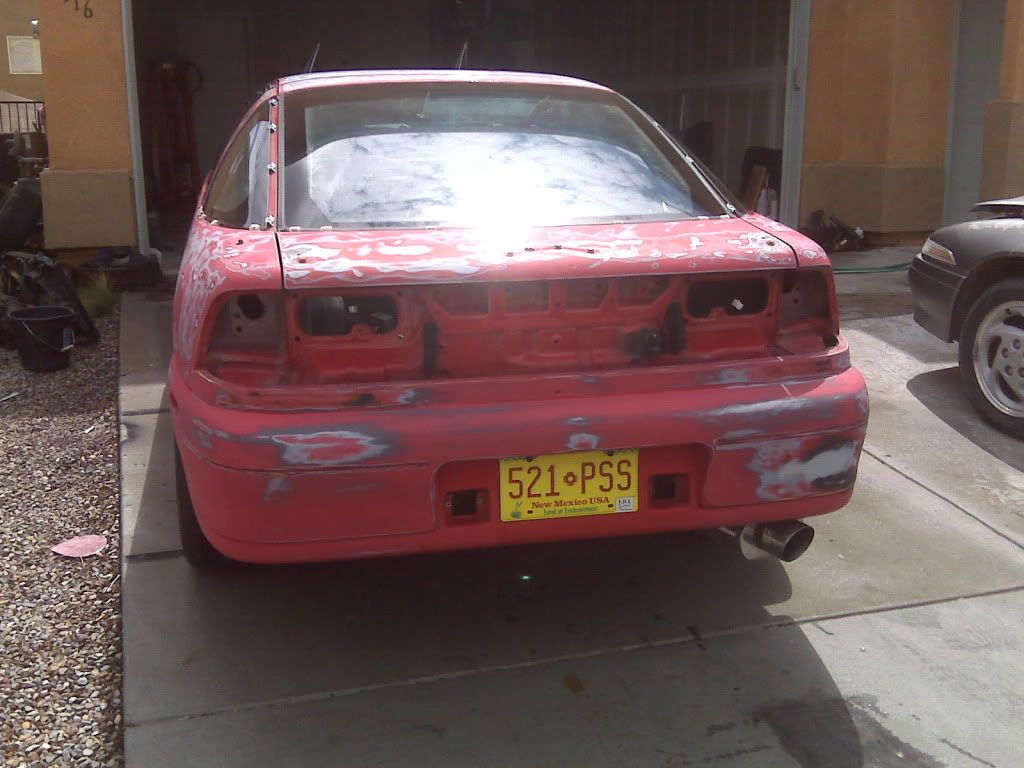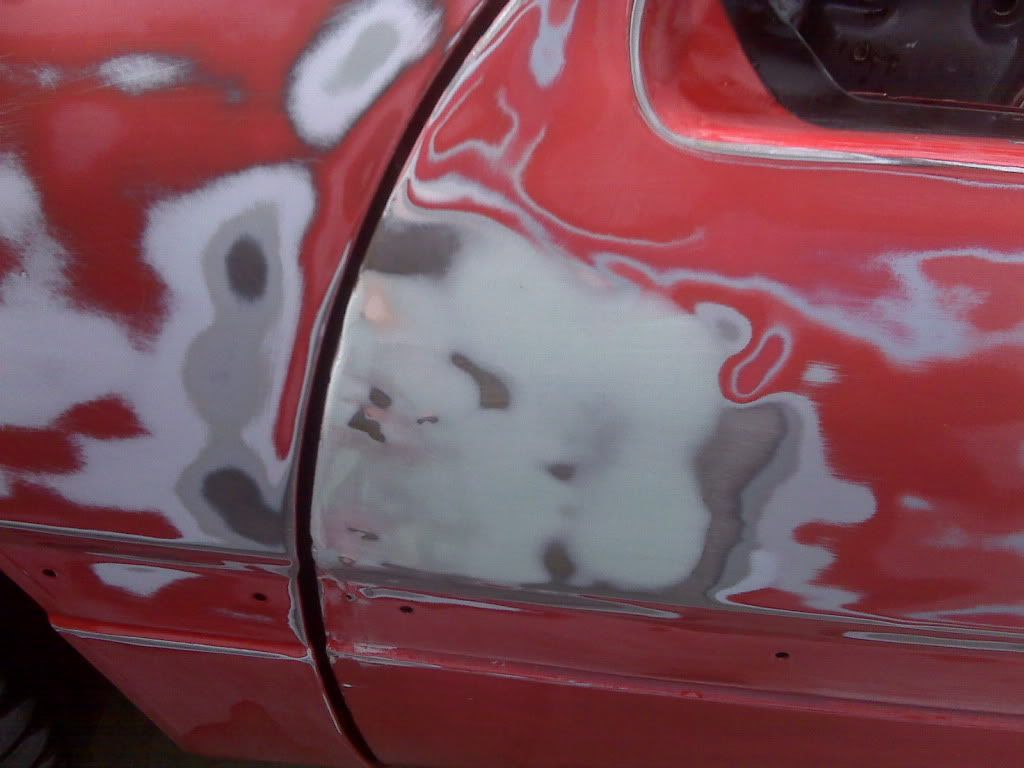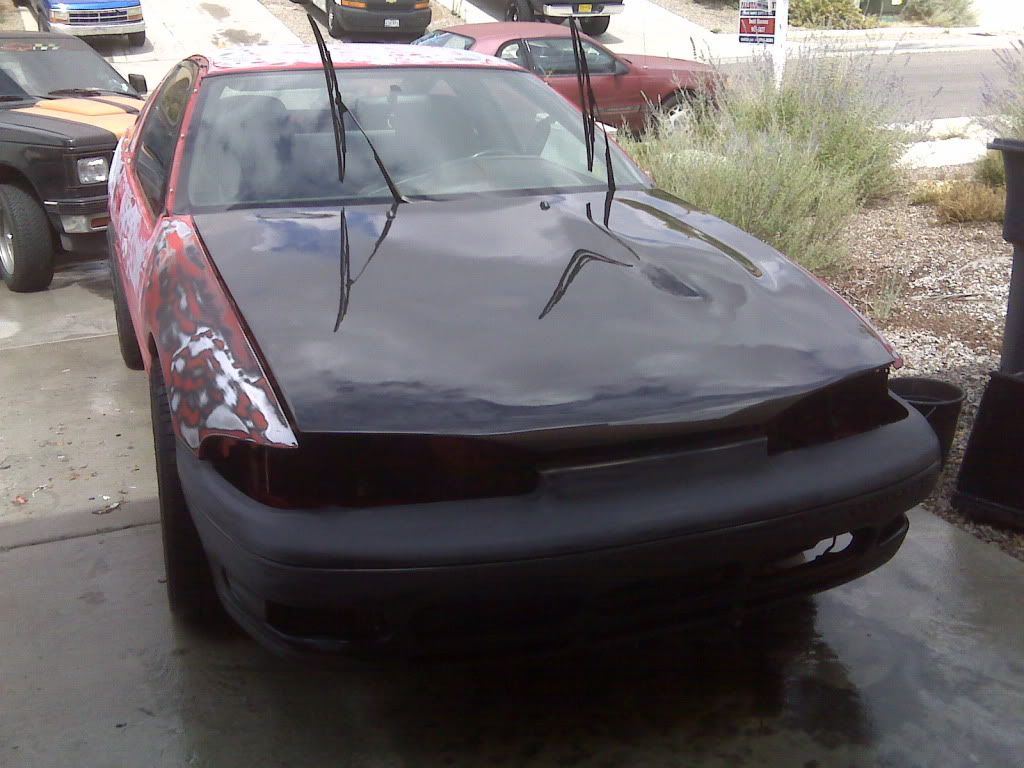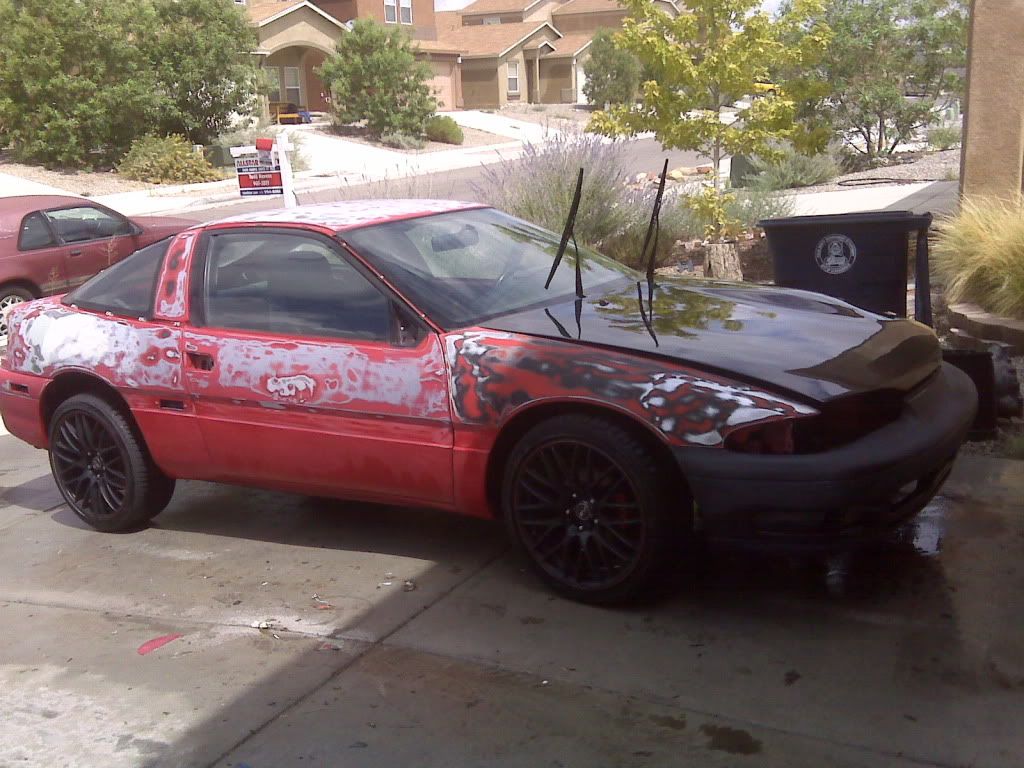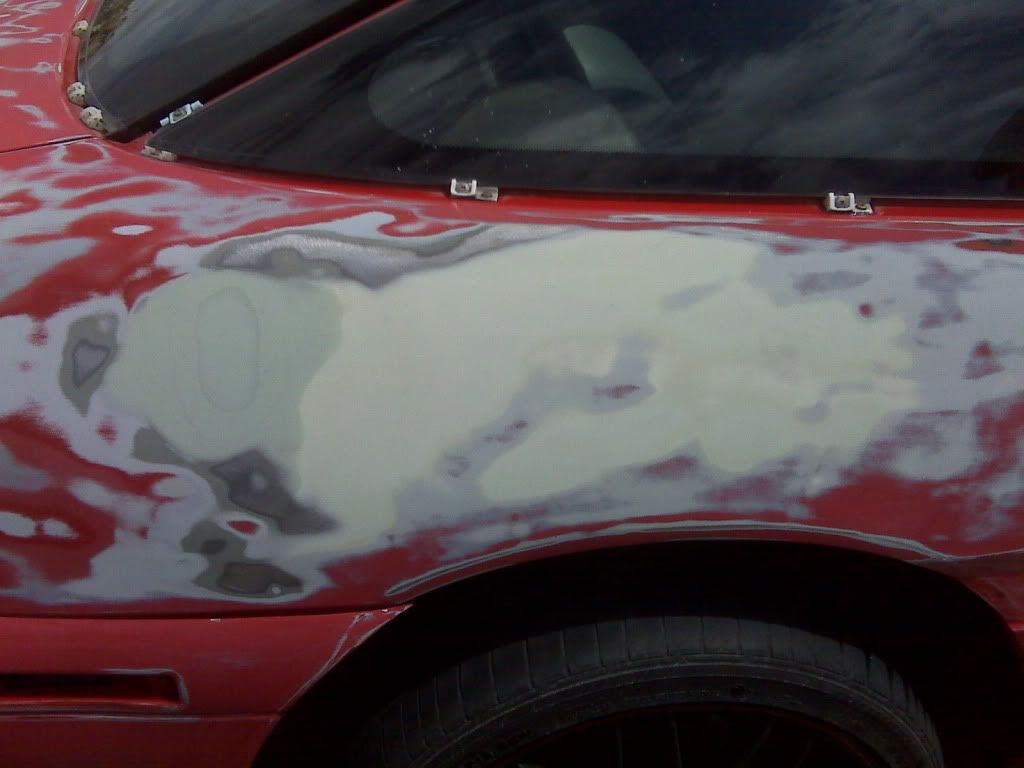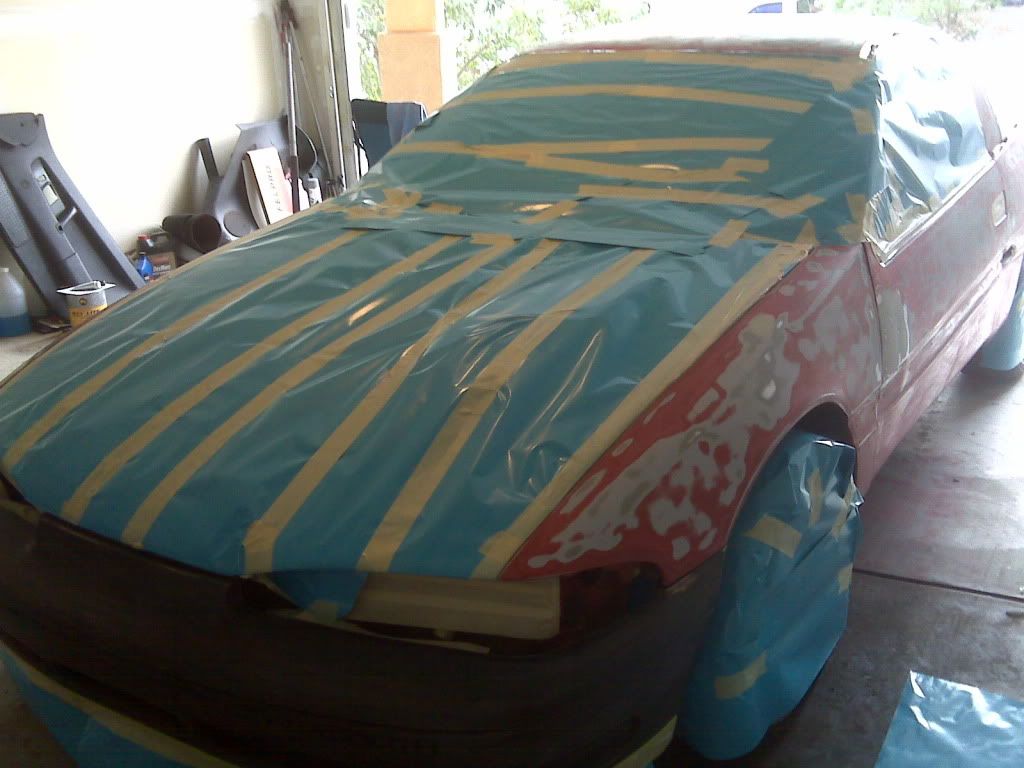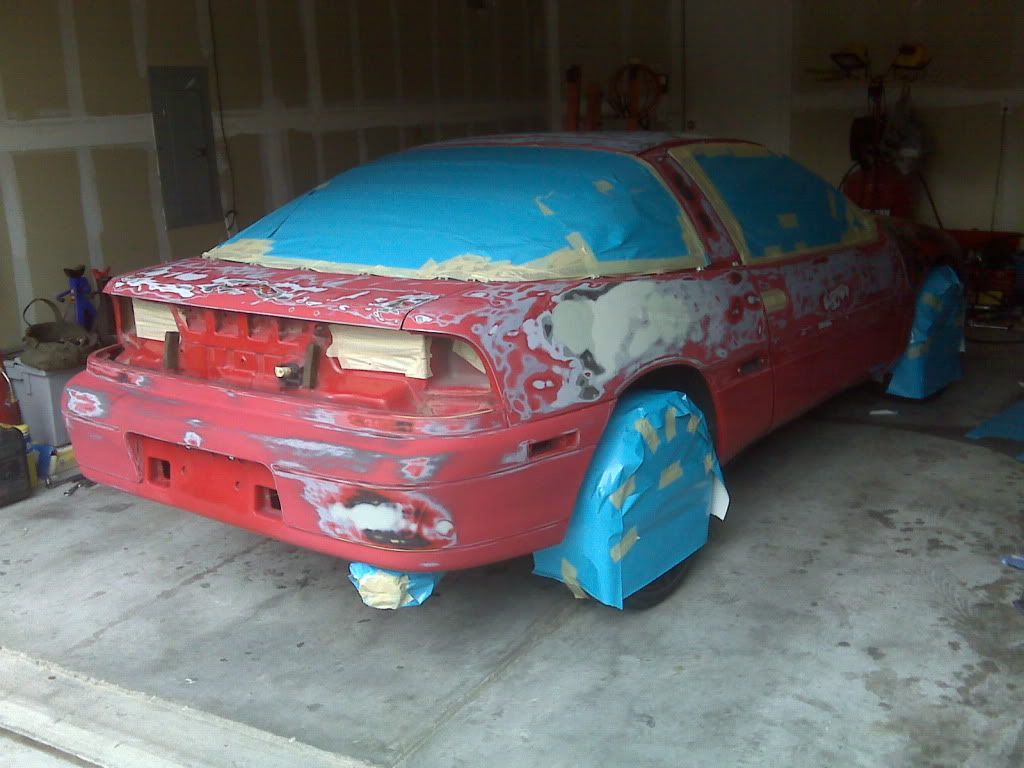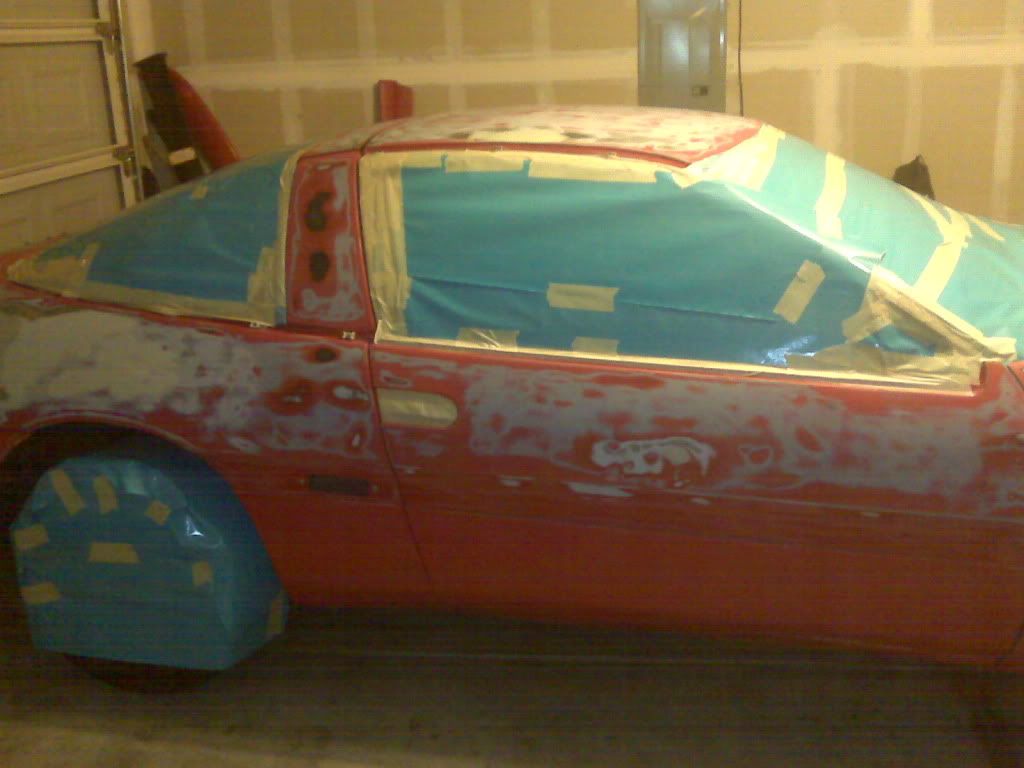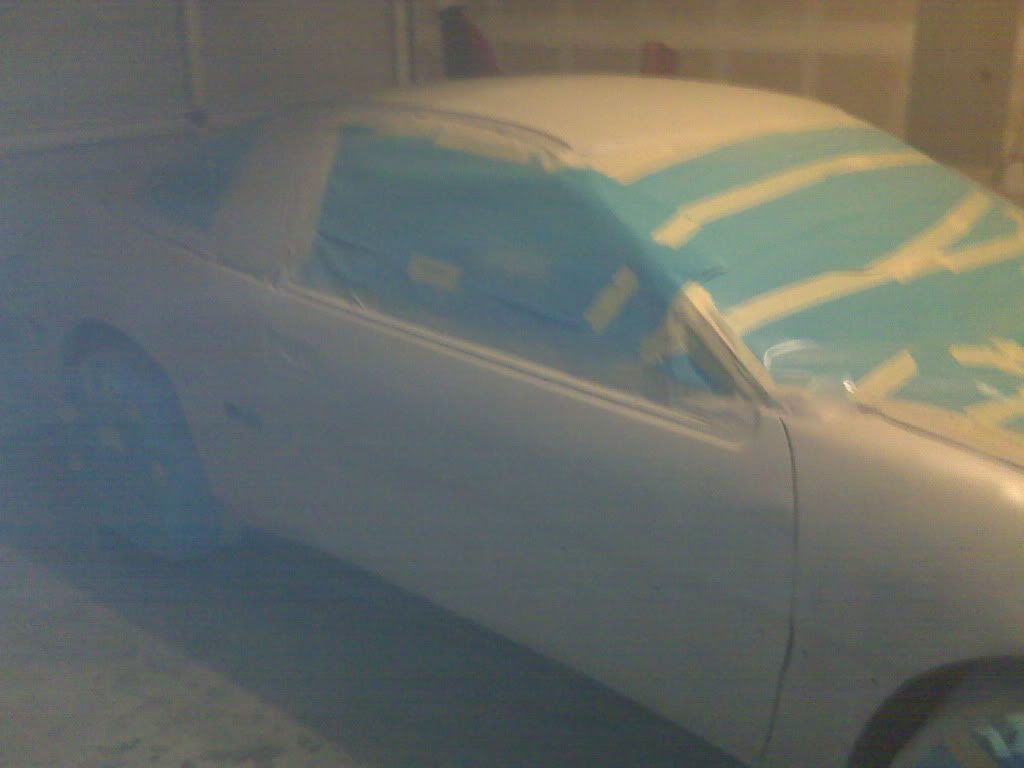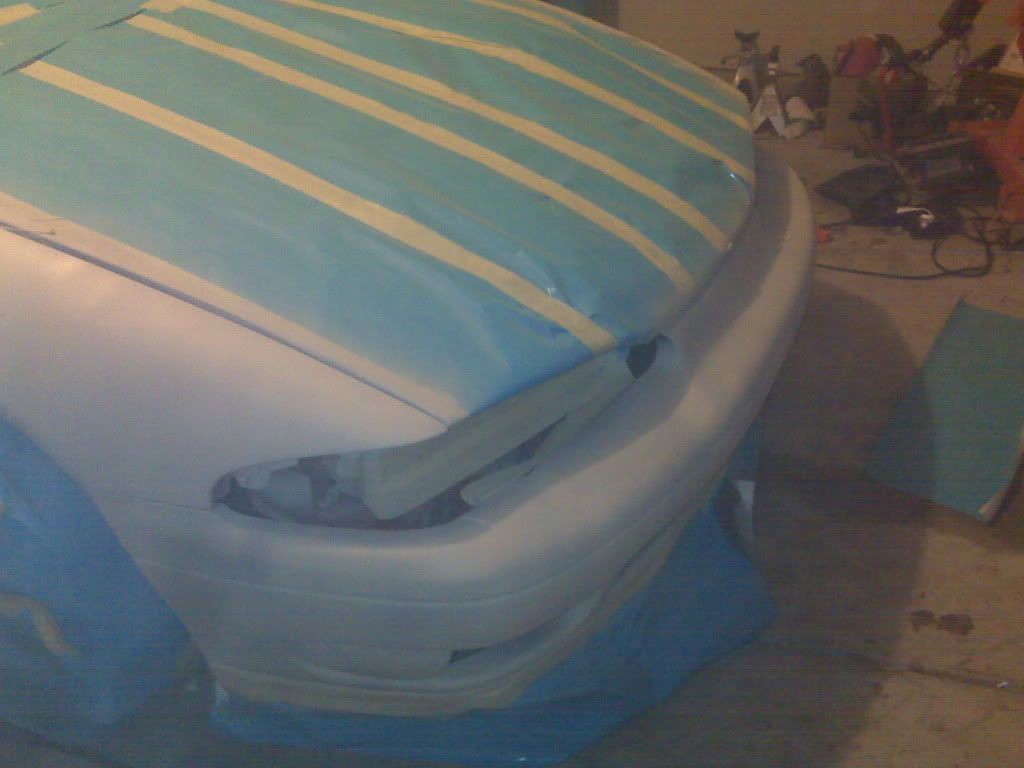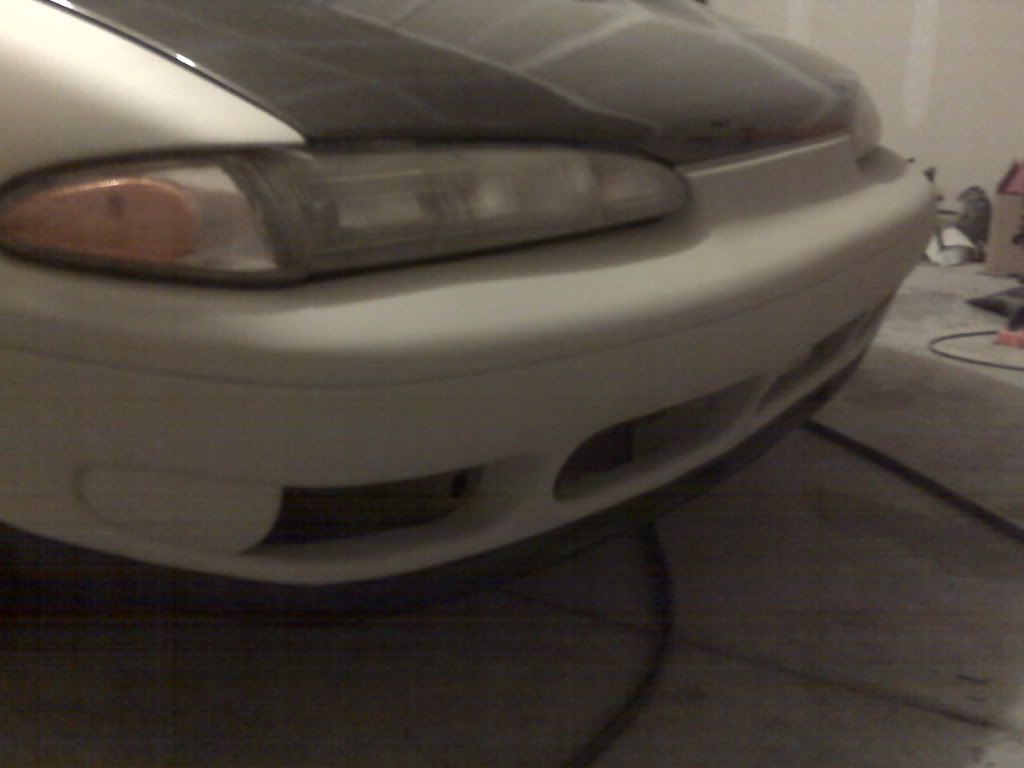 These next pics were at some local big shows that I decided to take the Laser to. I usually do these shows with the Trans Am's but both are still in the shop. So as these are great shows and for a good cause I decided to tie up a few loose ends and take the car. The engine bay I am very proud of, nothing went back in uncleaned and re-finished. I decided to keep my theme of the classic Plymouth name sake and finished everything according to classic Mopar. Thus included the crinckled finish valve cover, and Hemi orange fuel rail. I have recently liked Dodge's comeback with the blacked out tail panels and decided to go with that look too, including that flat black spoiler.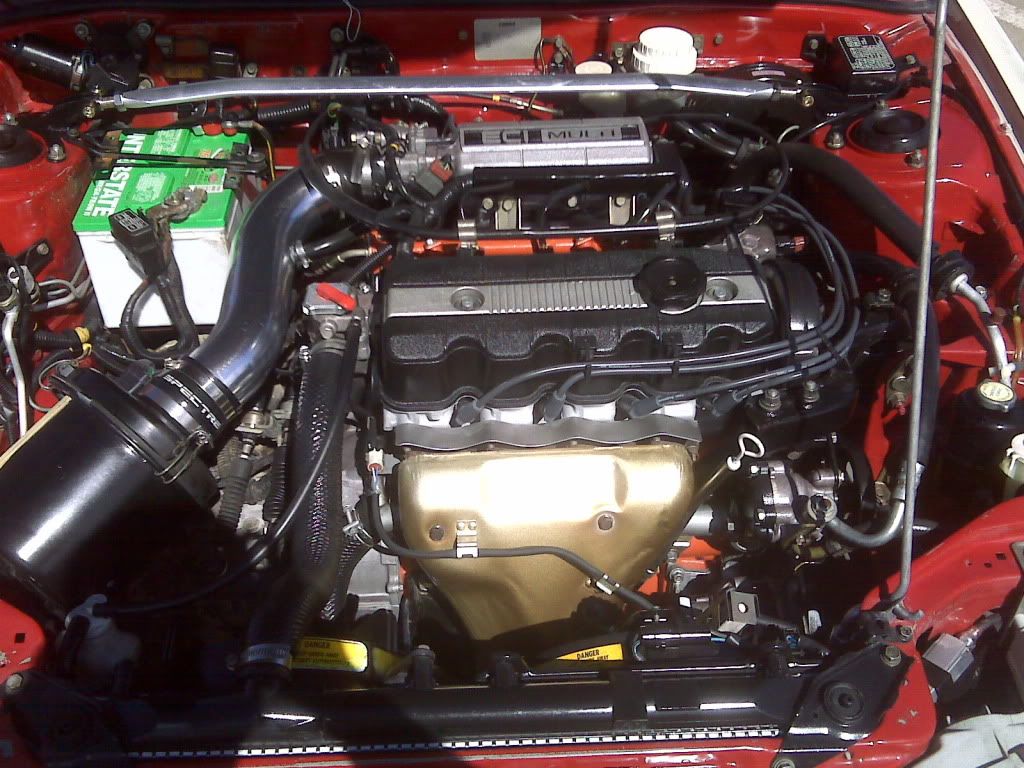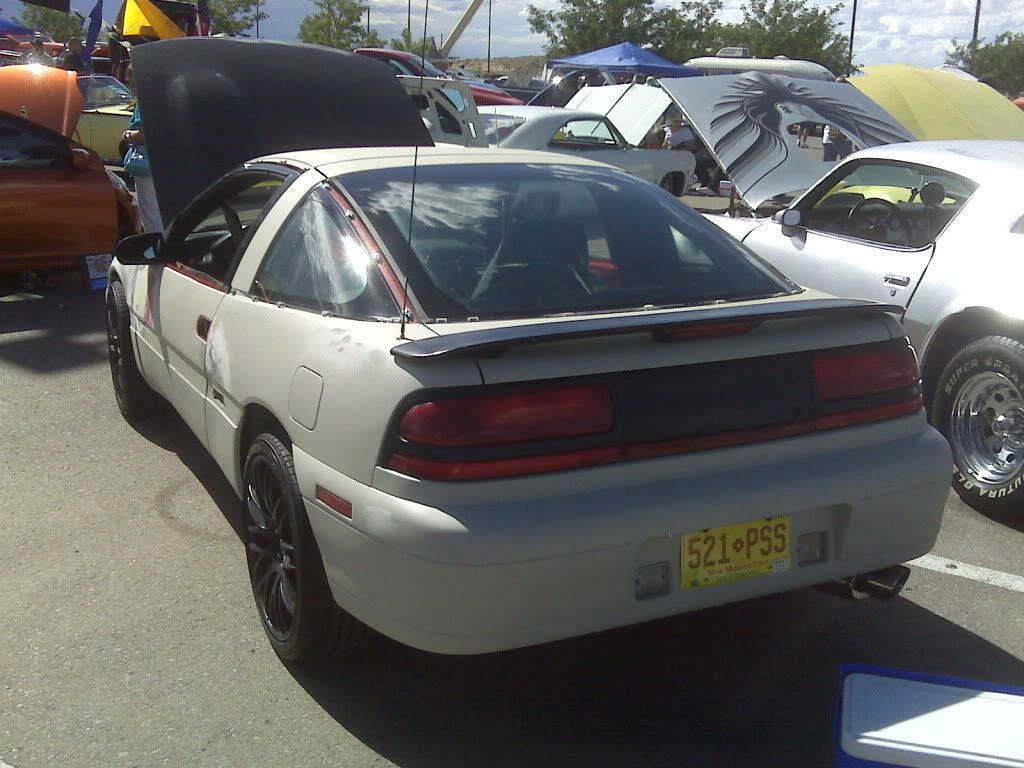 And a few other Mopars from the show and one DSM other than mine. This was the weekend show at The Route 66 Car Show.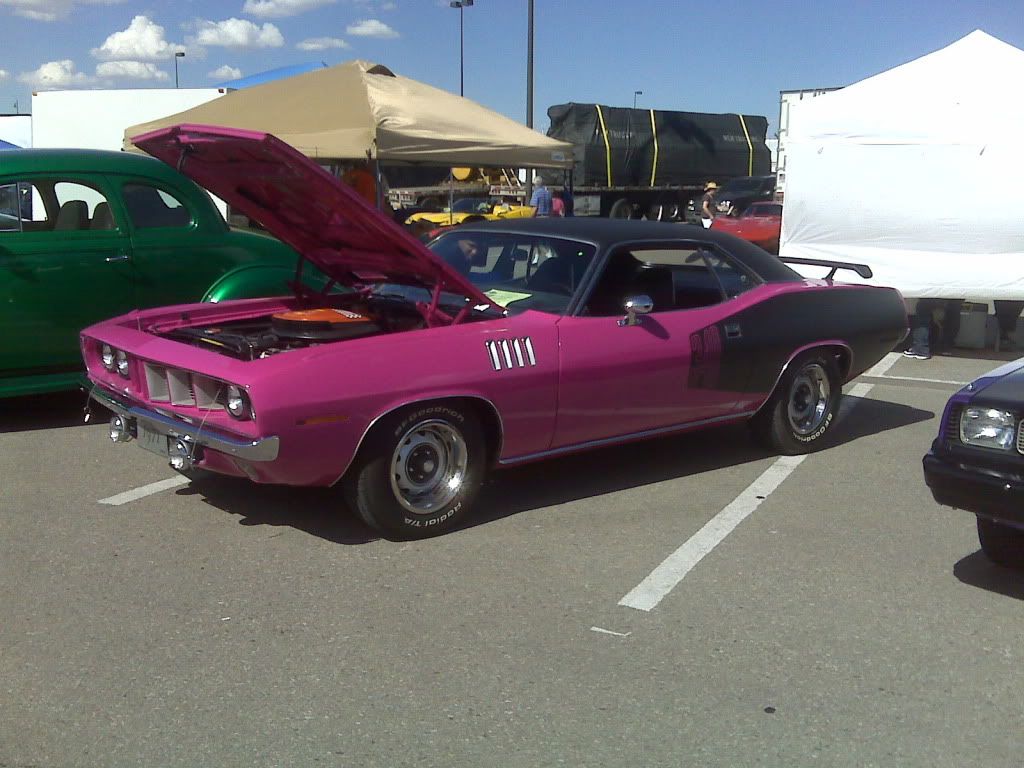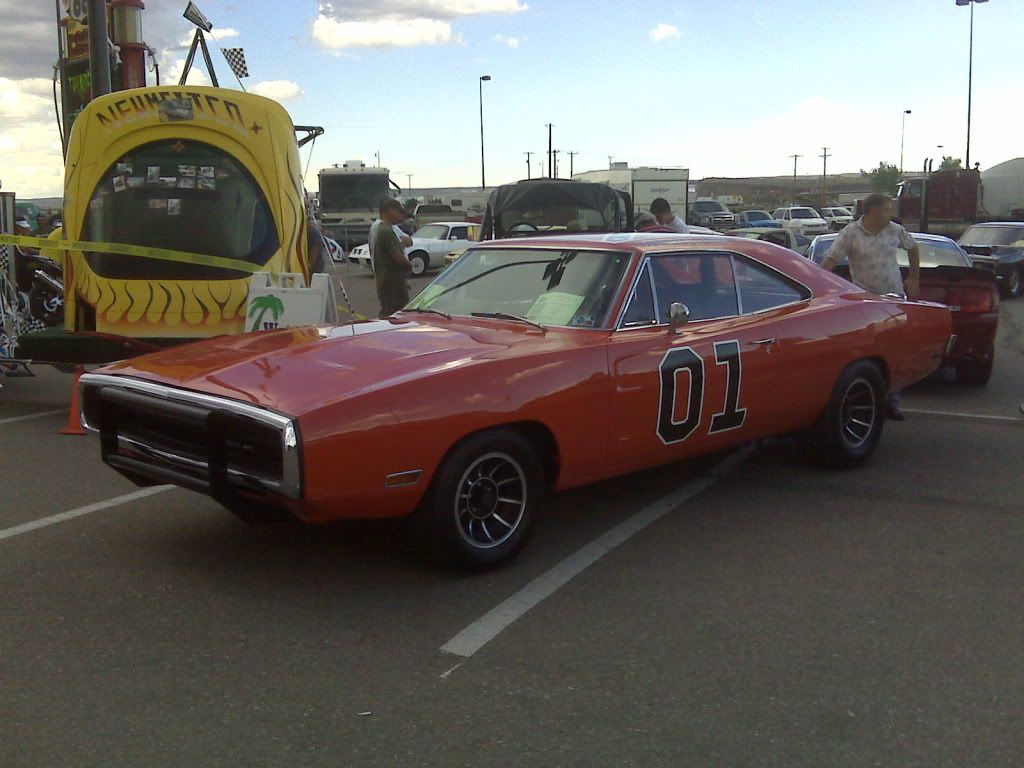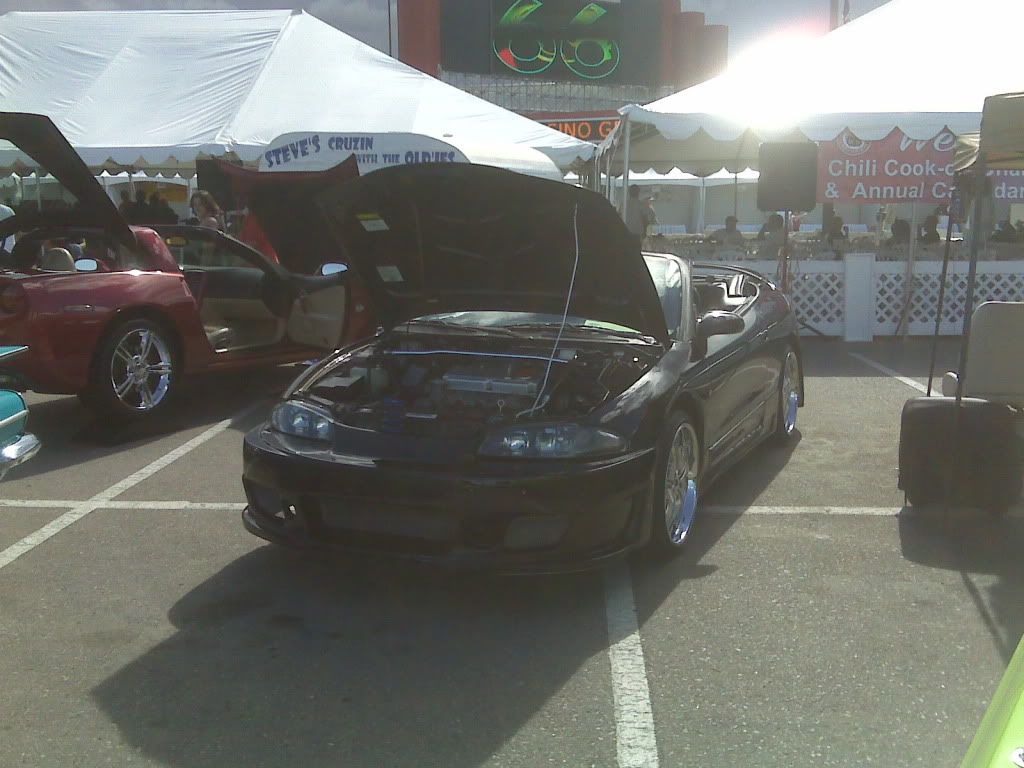 The next weekend was an annual Make A Wish Foundation show. I decided to take the Laser and the 92 GTA to this one.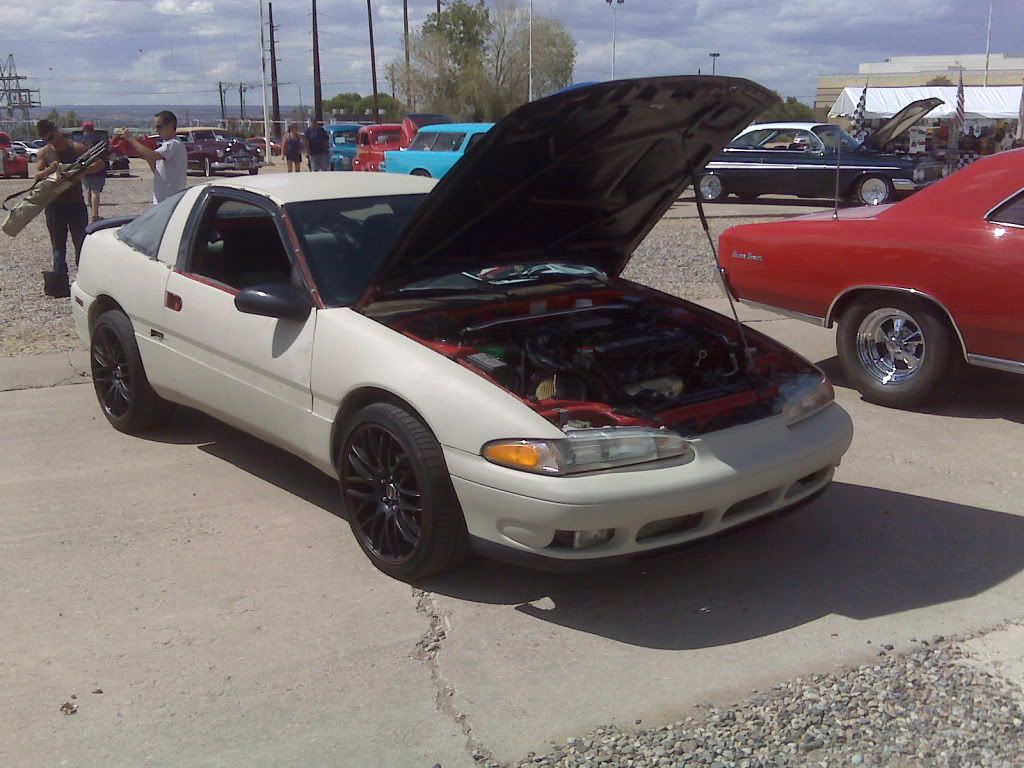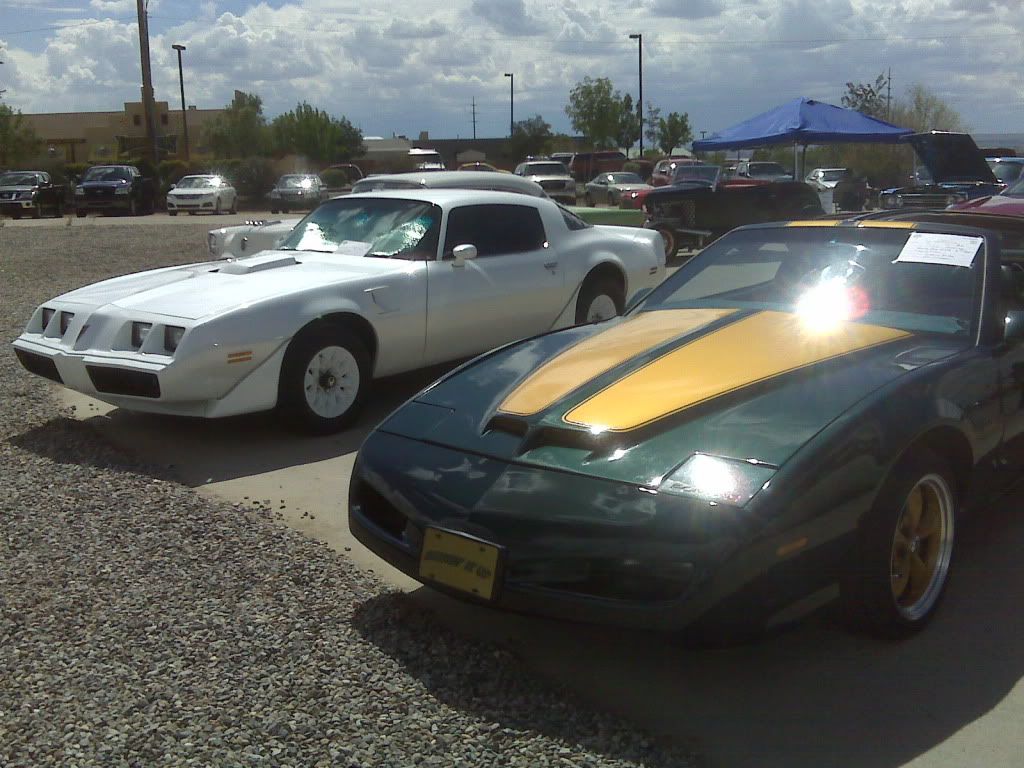 Suprisingly this show didn't have a "Sport Compact" or "Tuner" category, so I entered it into the "Builders" class and the DSM god's were smiling down on me cause I walked away with a 2nd place trophy!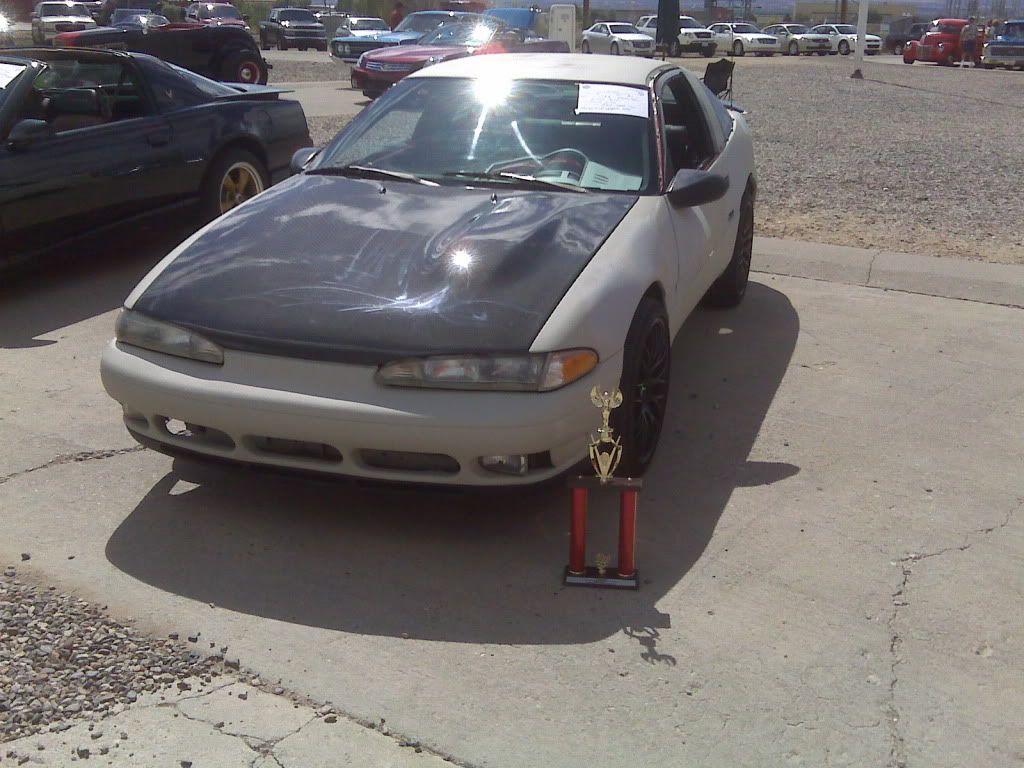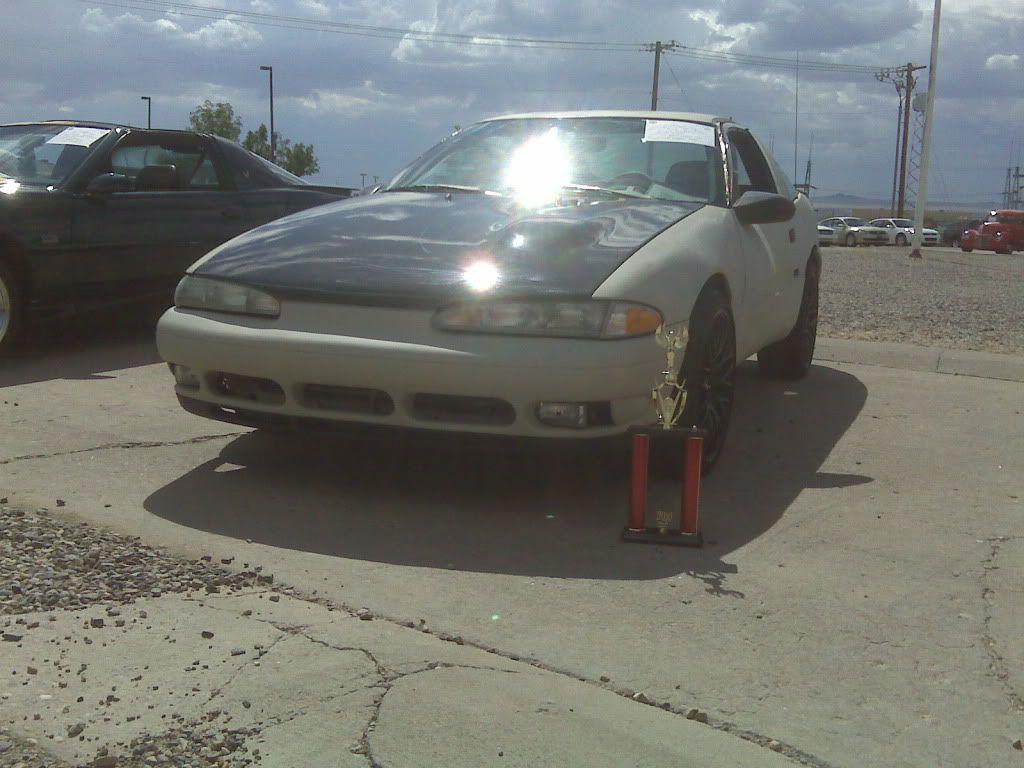 This as far as I have documented to recent. I am going to be block sanding the car this weekend and will have updated pics. Hopefully my goal will be reached in 3 weeks longest I don't fill up lol. I hope this makes it into the build section as it gives 4G37 owners some pride and encouragement to step up above the crowd. Thanks for enjoying my pride and joy!