Lazylaser's DSM journey
I don't have enough posts for the member's projects section. Although I do way more searching than posting.
I started with a 91 fwd Plymouth Laser that I bought at a police auction for about $680. It was more of a go-cart than a car. In the beginning I had some trouble getting it to make the power that I was looking for. After finding the cams were 180* out, all the upgrades that were piled on the car really Woke up. These big power gains now created traction issues that even, polyurethane mounts , suspension, an LSD and good rubber couldn't solve.
The TRE (team rip) transmission was a pile of shit from the time I got it, it ended up being the weakest link and the LSD exploded on the highway.
Luckily I was prepared; I had already Bought an AWD 97 talon tsi that was being prepped for a heart transplant.
Whoever owned the car before me slapped a boost controller and an evo 16g on the car and Knocked the rod bearings into the bottom of the oil pan.
After about a month of wrenching on the car, my friends and I transformed it into the car I wanted,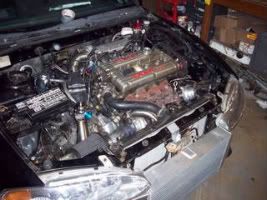 The mr2 is my younger brothers' and just as much work went into his toyota
98,000 talon tsi,
6-bolt swap, balance shafts removed, ARP rodbolts, headstuds, and turbo bolts, b/c 272's cams and springs and titanium retainers
dsmlink, gm 3" maf and translator
slowboy fmic and piping, 63mm throttle body, greddy rs bov
pte 780cc injectors, aeromotive afpr, walbro Hp 255 and 6an from tank to rail.
Ebay 3" turboback stainless steel exhaust
Aem uego w/b, autometer C2 boost, egt, fuel pressure and oil pressure
Act2600 and fidenza aluminum flywheel.
Evo16g that I spent days porting, 38mm w/g with opendump, sbr cast manifold and 2g ported o2
Magnacore wires and ngk plugs
And other things like s.s. clutch and brake lines and a 2600cfm fan, a lot of things have been relocated (like the battery) or removed (like the A/C) , I'm sure I'm forgetting other stuff.
Future plans are, coilovers, big brakes and meth injection.
BIG THANKS GOES OUT TO Asmodeus of demonmotorworks, who turned many wrenches on this project , and Chaz Mance who did a lot of the wiring.
See everyone at the shootout