I bought a 1990 Plymouth Laser 5-speed FWD 6-bolt roller for $500. My goal is to use as many spare parts as possible that are literally laying around the house. I think it'll be fun to document just how much it is going to cost to get this car running again. Beyond that, it should be laughable as to what can be done with all of the spare parts a hard-core DSMer just so happens to have laying around the house. This car will pretty much go together with spare parts, save buying a few items that should be bought or are just too rare to have laying around or donated by friends.
Here's where it started: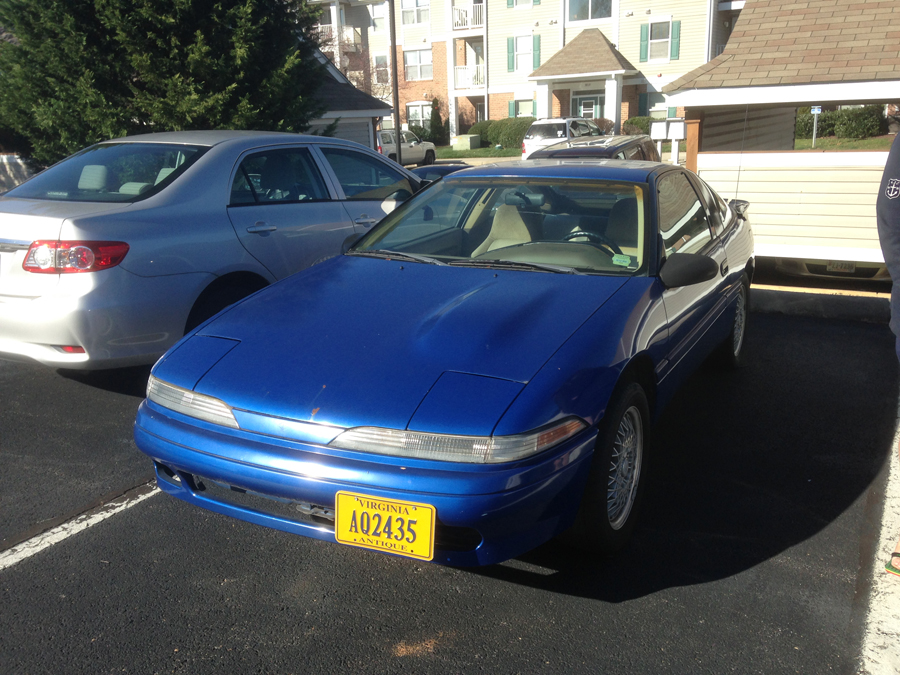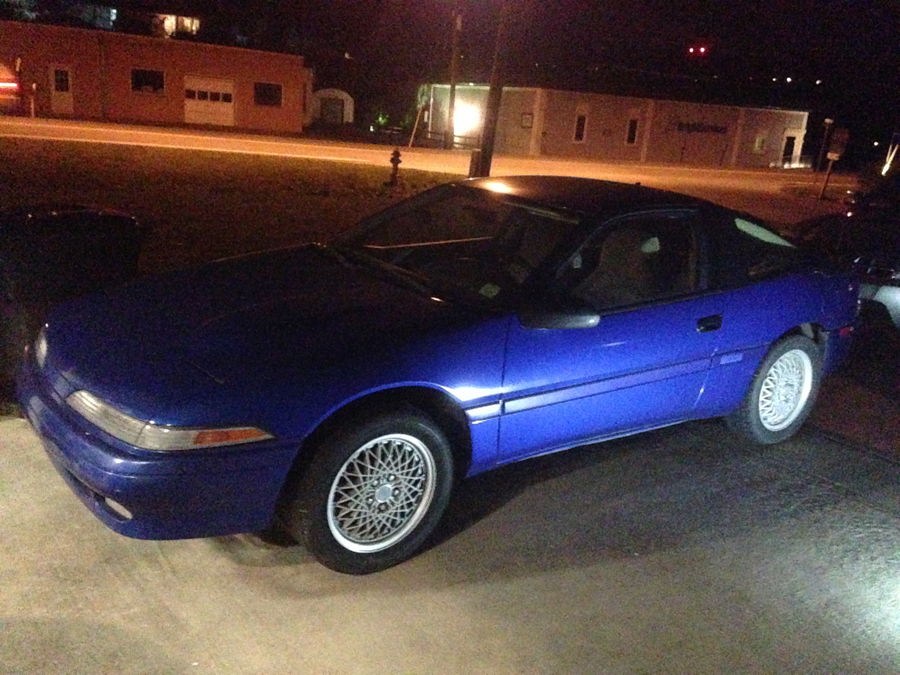 The car bent some valves and the previous owner removed the head, sold the turbo and started to slowly part the car out, then lost interest to invest the time even in a part-out. The car was 2 miles away and the PO had a dolly we could even use to trailer the car home. Quickly we bargained and I returned 2 days later to pick it up.
The day before picking the car up, I water-tested the valves in a spare 2g head I had around and found them to be fair. The cam towers looked good, so a little clean up should be all it takes to have it ready to bolt on. I ran it past the machine shop and they again tested the valves and said they were good to go. Brought the head home, knocked some of the oil drain casting flash out and ported the oil feed. Today I returned it to the machine shop for drilling of the head bolt holes, decking and general cleaning. Since I was in the area, I also opted to swing through the local junk yard.
Low and behold I found a lot of stuff I knew I'd either eventually need to buy or wanted.
Fog Lights
1g Non-cruise throttle cable (no cable in car)
Seat belt trim
seat lever trim
extra shift boot and shift knob
an extra fuel rail spacer to go with the two I currently have
both front splash shields
1g N/T FPR (may not use it after reading)
6 of the little paper clip things for fuel injectors and underhood connectors
misc hardware to install it all
Total: $25.11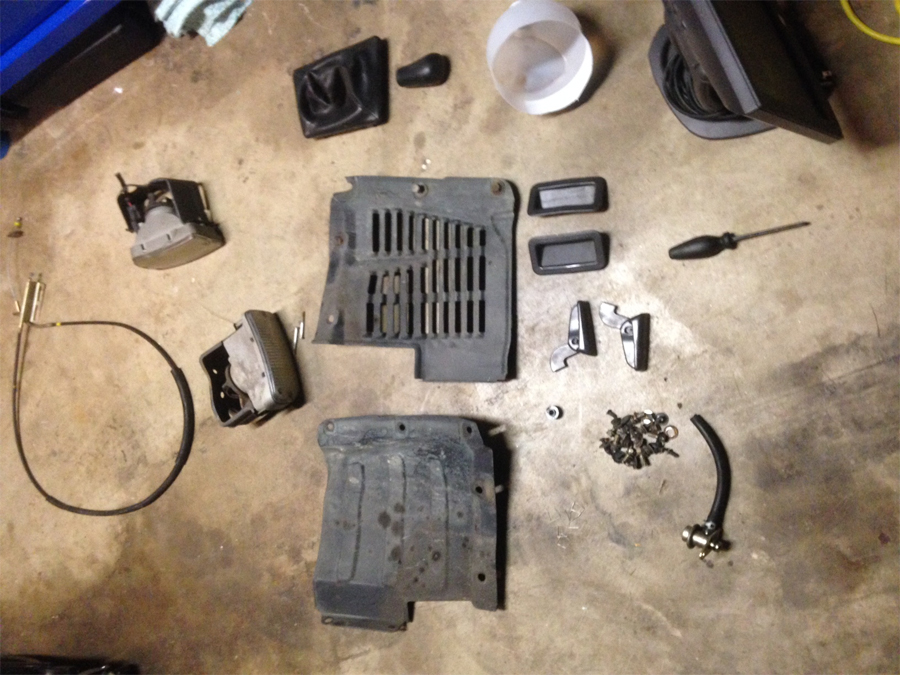 The night I bought the car, I won an ebay auction for a 1g RRE intercooler kit, including all the duct work and clamps for $254.00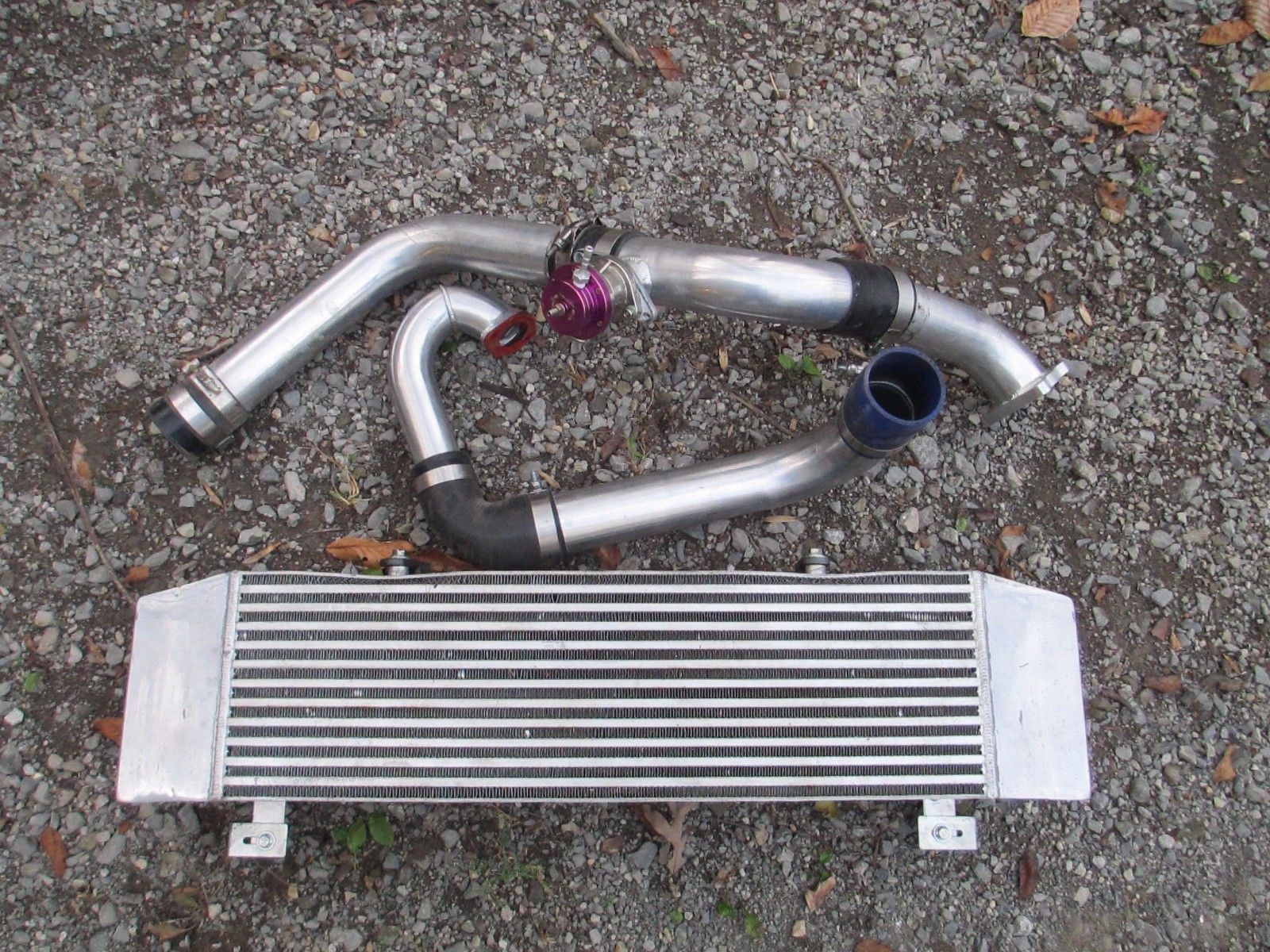 Running Total: $279.11
The car has a remarkable number of 90 parts that came along with it.
90 throttle body
90 fuel rail
90 CAS
90 ECM
battery bracket
1g intake
1g and 2g throttle body elbow
upper timing cover
radio trim
coolant overflow
90 coil, igniter and transistor
extra shocks & struts with Eibach Sportline springs
OEM oil cap
I may have missed some things, but considering how I'll document in this thread, what's not mentioned is already with the car
The interior is almost entirely there save a few push pins. I completely swept it out today and pulled a few pieces for cleaning. The hatch cover is intact and works well. It has a 1-piece rear seat back too. I pulled the hatch carpet and took it in for power washing. The lower cardboard was badly warped so I'll cut another spare well cover once it's done drying (wood is on hand from another project). The interior carpet will come out for the same treatment at some point also, but I ran out of daylight. The seats are in remarkably good shape, but I'll clean them up a little also when they are out.
For now the items that I know I'll still need are:
6-bolt water outlet, thermostat housing and thermostat
Injectors
gaskets
timing components
turbo oiling
6-bolt head studs
Yeah, there's not much else I can think of. Items being re-used:
Vibrant Street Power muffler (car has a thermal R&D turbo back, but the muffler is gone)
2g Intake
2g Head
2g cams
2g cam gears
2g exhaust manifold (ported) and heat shield
2g o2 housing (ported)
Turbo Lab billet 20g-TD06SL2 (yes, it's just sitting around)
Walbro 190 fuel pump
2g MAF
2g injen style turbo inlet
2x fuel rail spacers
1g BOV
Possibly my old 2g stock FPR
I'm sure there is also more stuff floating around here that'll get used.
A buddy has already donated a valve cover, ugly oil cap and a cam tower dowel.
Lifters, rockers, HLA are all in a DIY parts bath I made up for $0 today. I'm slated to get the head back on the 16th. I don't know if I'll be ready for it quite yet, but it'll be interesting to pop the hood and start hanging hardware.
Slipped the fog lights in just to see how they looked before cleaning them up and I think it's a major improvement to the front end.