Discussion Starter
•
#1
•
Alright so, I've been thinking lately about there not being a whole lot of information that's easily accessed about the Ostrich 2.0, what it does, how you set it up, or what the software for the Ostrich looks like and how it works, so I think it's time that I make a sad attempt at an informative Ostrich thread. I'll mostly be explaining what it is, how it works, installation, and the programs available for it. Any of you guys that are currently using Ostrich, doesn't matter if it's TunerPro, Jackal, or Werewolf, you are very encouraged to chime in. But, I must ask that we don't bash ECMLink/ECMTuning at all, and I ask all ECMLink/ECMTuning users to remember the old mom's saying of "If you don't have anything nice to say
DON'T SAY IT AT ALL!!
" Let's keep it respectful, and courteous. ECMLink/ECMTuning users are also welcome to ask questions if they are curious about anything with the Ostrich. So, here we go.
The Ostrich
This is the Ostrich. Without going into a whole huge amount of details of it's technical makeup, it is essentially a big flashable EPROM chip. The Ostrich itself isn't a tuning program, it is only the actual piece of equipment that allows you to use tuning programs to rewrite the ECU's parameters. It plugs into your ECU in the EPROM spot. The ribbon cable in the picture above has an end on it, that looks just like an EPROM chip, and it has 28 pins. Therefore, the only thing you need to run an Ostrich is a socketed ECU. The ECU side of the cable clips into place like any normal chip would, and the cable itself is so thin, you are able to run it out of the ECU and close the case without cutting any holes. The cable itself is a pretty good length so mounting solutions isn't a problem at all, most people mount in to the left of their coin tray, but some people mount it in the glove box too, your choice. The other side of the cable plugs into the back of the Ostrich unit itself, and that's what makes the Ostrich different. It is basically a mini computer that emulates your EPROM chip that you can take with you/fits in the palm of your hand. But, anyway on the front side of it is just your basic, average USB port. The supplied cable connects your Ostrich to a laptop, or if you don't have one, you are able to detach the Ostrich and tune using your PC. The Ostrich itself has an internal battery that is good for 20 years, so if your car battery dies or gets unhooked, if you unplug the Ostrich, if you unplug the ECU, no matter what you do, you will not reset your tune. This is how you are able to tune using a PC if you don't have a laptop. This ALSO makes the Ostrich a great anti-theft device, because it unplugs in a snap, and the ostrich unit itself is small enough to fit in your pocket comfortable. No Ostrich in the car = no ECU = no start.
I won't spend too much more time talking about the Ostrich itself, or how it installs, so on to the Ostrich programs!!
Tuning Programs/Solutions
There are three tuning programs available for the Ostrich for DSM applications, so I'll break it up into three different sub-categories for you.
TunerPro V5
Download TunerPro here
Alright, first up is the most difficult to work with. TunerPro. TunerPro is where the "chip burning" movement started with, and where Jeff O. made his keydiver claim to fame, and many others. TunerPro has been around for years and year and years, and a yahoo usergroup exists still to the very day dedicated to the DSMECU code, and development as such. TunerPro is by far the most versatile of the three tuning solutions, as it really has no limits on what you can do to the stock ECU image file. Boost by gear, 10,000 or beyond RPM maps, extended load maps or pressure based maps, anti-lag, stutterbox, speed density, literally everything. There is an infinite amount of what you can do with TunerPro. However, there is a slight catch. TunerPro doesn't have a 'hold your hand' interface, and in order to do these advanced things on your own, you must quickly learn hex editing, hex code, and the very detailed inner workings of the DSM ECU EPROM code. Thankfully though, there are a lot of people that have already done this work for you, and there are a lot of maps already out there that are perfectly stock, but have all the options for antilag, stutterbox, speed density, without speed density, and etc. So it's really not that difficult as it used to be. Next paragraph explains a little more in detail on how to get started using TunerPro.
Okay, the way TunerPro works is, in order to start editing and tuning with TunerPro, you first need the EPROM files to load into your Ostrich. These are called a .bin file, and a .xdf file. These files are very commonly found on both the yahoo usergroups, and a website called dsmecu.com. Now, after you have found the E931 .bin and .xdf, it's fairly self explanatory from there. Open the .bin first, and then select the .xdf. After that the EPROM file is loaded and ready to be edited. A screenshot below is of the AFR table just as an example of how easy it is to use TunerPro once you have everything you need. You'll notice to the left is the list of editable things. Click it twice, edit what you want, and then you are done.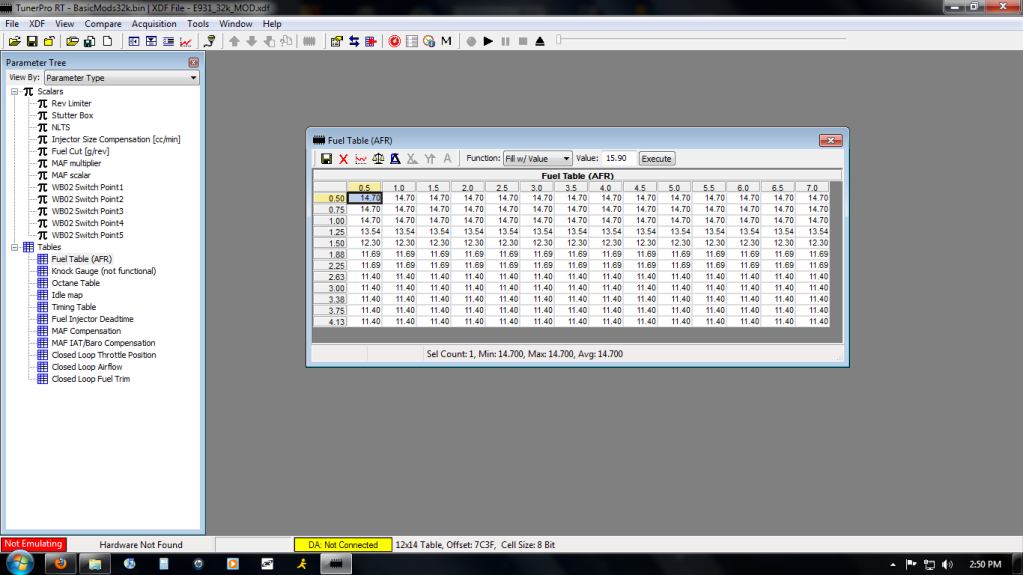 If you see something in the list to the left you don't have that you want, well this is where TunerPro becomes difficult or not so user friendly. Chances are you can find another .bin and .xdf(you need both) that has what you want, but if you can't you must surf the yahoo usergroups and find out how to do it yourself. Most of the time it will require hex edited a line or two of the EPROM's code, but to be honest with you this may seem daunting the first couple of times, but you quickly get the hang of it. Overall TunerPro may be more involved, but it offers unparalleled control over the ECU, as you have DIRECT access to the actual EPROM's code and not just a list of things. If you don't like something, you have the power to change how the ECU sees it, how you see it, and what it does. It is a powerful tuning tool. I won't get too in detailed with this either unless someone asks more about it, so onto the next tuning tool. Jackal.
Jackal
Alright, Jackal is a lot different, but a lot less complex than TunerPro. Reason being, Jackal is ONLY for Speed Density for 1G DSM's. Where as TunerPro controls everything (MAF, Speed Density, 1G or 2G, it's universal), Jackal is only for Speed Density. However, Jackal is quite a bit easier. It has an interface similar to that of ECMLink's(not exactly similar, but just using it as a comparison) where everything you need is right there for you in an easy to use interface. You do not have to download or find any .xdf of .bin files, there is so searching for anything. Download Jackal, plug your Ostrich in, open Jackal and you are done and ready to edit!
Jackal interface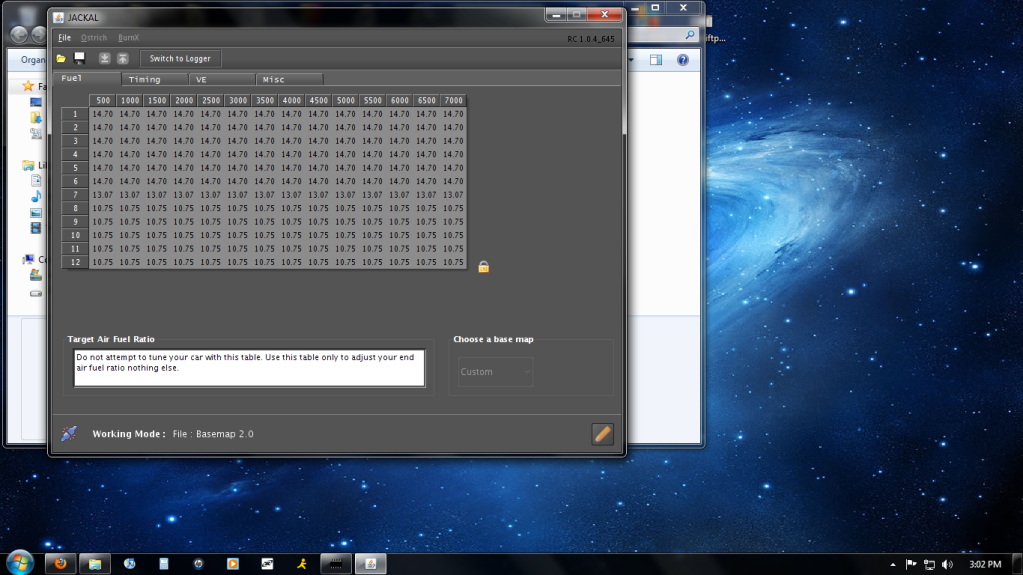 Jackal Speed Density(also known as DS-Map) offers the same things(and one or two more things) as TunerPro and ECMLink's speed density. Admittedly there's not as much to say about Jackal because it's a lot simpler, but it does everything you need. It offers direct control over AFR tables, Timing table, VE, as well as all the other engine parameters and sensors you need control over. You can control how much fuel will be added or subtracted based on temperature that your IAT sensor sees, you can control coolant enrichment, startup enrichment, stutterbox/anti-lag/NLTS, rev limiter, FPS/Cyclone/Nitrous/Meth control, and you also have full control over closed loop operation, meaning you can choose to run in open loop full time, not using your stock 02 sensor at all, meaning you can run your wideband in the stock 02 location. I don't recommend installing a wide here, as I personally think it shortens 02 sensor life, but it's all up to you. It offers all these and much more. It also offers ECU based boost control, where you only need an electronically controlled solenoid, and the ECU will control the boost.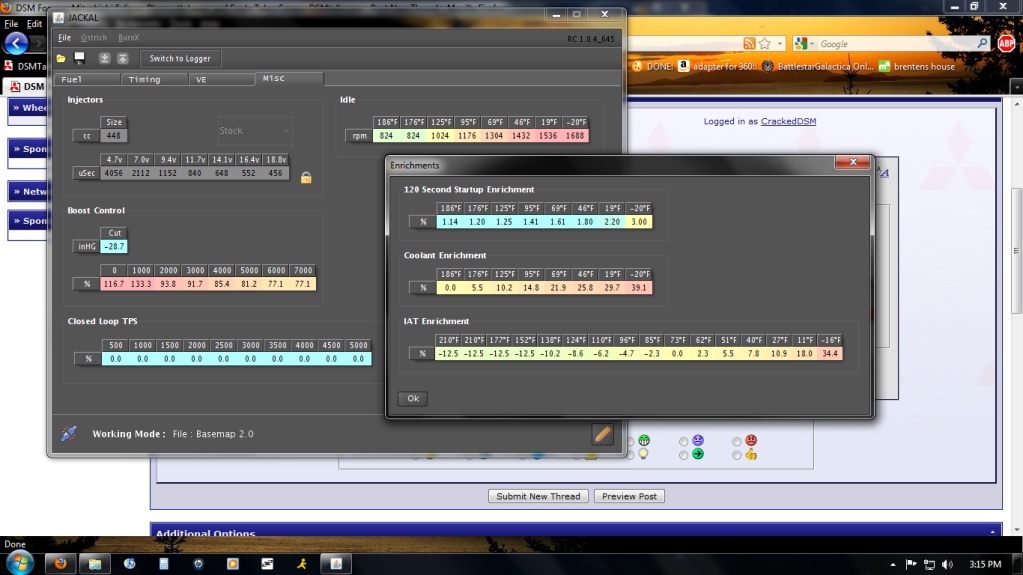 The newer versions of Jackal offer the ability to view and clear check engine light/test codes, and a better graphed logger. Both TunerPro and Jackal have built in loggers, and after I tested them both with what I personally used to log, they both were logging around the same samples per second. The only thing TunerPro and Jackal/the Ostrich does not have is a logging cable that comes with the package. A logging cable is currently in development, you can choose to make your own out of a few wires and a couple resistors, or you can use an old pocketlogger/palm logger style cable, a null modem, and a keyspan adapter. Or if you so choose you can run ECMLink's logging cable as it is only $55 and works great.
(Disclaimer: I have an old version of Jackal that does not graph the log, the new versions of jackal all graph whatever set parameters you want)
Overall Jackal is a very, very good tuning solution and it is very user friendly as you can see. There are no sliders or etc, but a novice could still tune just fine.
Werewolf
Werewolf is brought to you by the same person who created Jackal Speed Density, and it is basically Jackal on steroids. 10k rpm, fully pressure based maps(all of them), complete control over all of the solenoids, not just the FPS, data tracing(highlights what cell is currently in use by the ECU. TunerPro does this as well), and a whole lot more that I am forgetting right now. I don't personally use Werewolf because it cost $200 and I don't have that kind of cash, but it is a great software. It offers a lot over the standard Jackal. I don't have a lot of information with Werewolf because as mentioned above I don't use it or tune with it. Here are some SS's below though.
Closure
I'm sure there are a lot of things I am forgetting to add that people will point out, or that I will remember and because I cannot edit this post after a certain amount of time, new readers are encouraged to keep reading for any and all added information.