Discussion Starter
•
#1
•
Really didn't know what I would run at all. I wanted to get a 12.50 and that was it.
I didn't realize that evo's came stock with a 2-step until like 5 minutes before I ran
First pass was horrible, I shifted into 5th gear and it killed me
Was in left lane
second pass much better, was in right Lane
Third pass was identical to to last one :dunno: lol, Was in right lane
Fourth pass was great! Got a 12.5 and was happy. Thought I was done.
Decided to get one last pass before we left, Best pass of the day, VERY happy with the results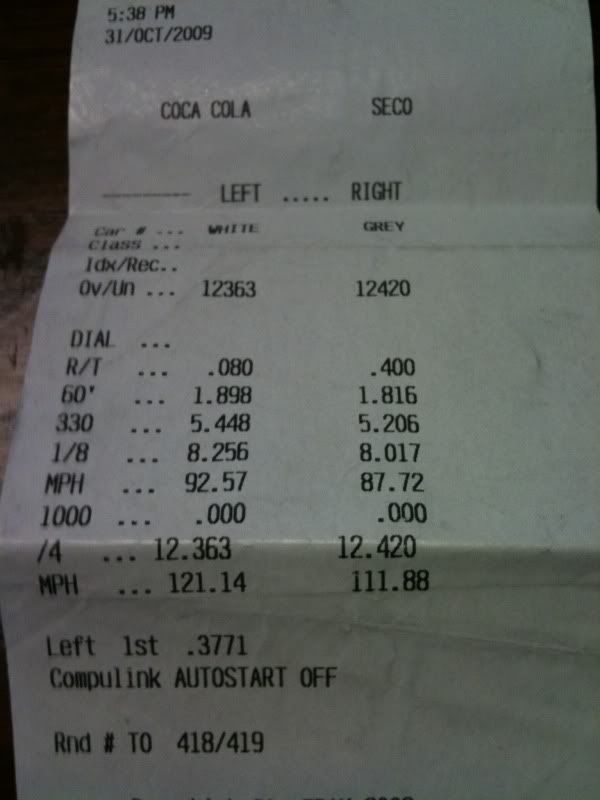 Had a great time, didn't expect to go that fast
, I'm waiting for people to upload videos and pics! We were all celebrating when our buddy won fastest time of the day, 9.69 @144mph!
Agghhh Good times good times
O ya current mods.
Turbo XS Downpipe
3" turboback exhaust
Hallman MBC set @23psi
Megan racing o2 housing
Injen Intake kit
AMS replica FMIC
And the most Important thing, UNTUNED! I was running 9.6 AFR at WOT with 0 counts of knock! Will get it tuned in two weeks. This is all on 93 octane pump gas.
Couldn't be happier right now, Not bad for a DD